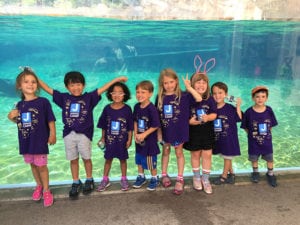 Summer camp is right around the corner. With only 5 weeks until the start, Camp J is hard at work planning and preparing for the best summer yet.
Summer Camp is a special time for children of all ages to grow and form important developmental skills. Camp J is a special type of community where kids come together to have fun while developing a sense of independence as they try new things and experience new adventures. Children will gain self-confidence and learn new skills in a safe environment at Camp J.
According to the American Camp Association, 96 percent of campers say that "camp helped me make new friends," and 92 percent say that "camp helped me feel good about myself." Seventy percent of camp parents say "My child gained self-confidence at camp."
I was recently promoted to Camping, Youth and Family Director at The J after working with the Early Learning Center for the past two-and-a-half years. I believe that summer camp can be one of the most rewarding and unforgettable experiences in a child's life. "Camp provides children with a community of caring mentors who provide experiential education that leads to self-respect and appreciation for life. All of the outcomes — friendships, overcoming challenges, staying healthy and building character — prepare them for bigger, brighter lives down the road. In addition to great friendships and enduring memories, many important life skills are learned at camp."
With Keff and Trek as well as Young Leaders and CITs, the Traditional Camp model is still very much alive and well. This year, there are more than 70 specialty camps offered, in everything from cooking, Legos, sports, dance, drama and much, much more. There is certainly something for every child! Camp J runs from June 5-August 11.
"Camp improves the lives of children, youth and families. Camp makes children healthy. Camp enables children to grow to be caring, contributing and successful members of society."
If you haven't checked out Camp J yet, visit www.jcclouisvillecamp.org to learn more and register today.  Time is running out before camp starts and several camps are already filling up.