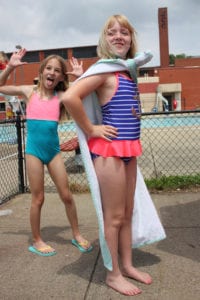 Summer Camp is a transformative experience that your camper(s) will remember for the rest of their lives. Every camper will discover, grow and learn within the supportive and safe environment that Camp J provides.
We offer two types of summer camp experiences:
1) Traditional Summer Camps include a variety of specialty areas including sports, art, science, music, drama and much more.
2) Specialty Camps that include Snapology, Cooking, Chess, and STEAM camps.
There is something for every camper, at every age!
Discover all our great summer camps:
ELC Summer Camp | 2- 5 years old
K'Ton | Rising Kindergartners
Keff | 1st-3rd Grade
Trek | 4 – 6th Grade
Young Leaders | 7 – 9th Grade
Specialty Camps | K – 8th Grade
Yachad | Inclusion Program
 FUNDED IN PART BY
Hannah Marks Fund
Florence Kreitman Isaacs Summer Camp Fund
Sadye and Maurice Grossman Community Service Camp Fund
Jewish Heritage Fund for Excellence
Korrect Optical
Schwartz Insurance Group
BRING ISRAEL TO YOUR HOME
Your Family Can Make a Difference!
Your family has an opportunity to be part of a wonderful and unique experience. Campers enrolled in our day camps are fortunate to experience the joy of Israel with our Shlichim (staff from Israel). They infuse our day camp programs with Israeli music, dancing, sports, food, language, trends and the inside scoop on Israeli life! Personalize the experience for your entire family by hosting one of our Shlichim for a few weeks in your home. Receive a discount on camp for hosting. For more information, please contact us at campj@jewishlouisville.org.
The J is open and accessible to everyone regardless of age, race, religion, gender identity,
sexual orientation, national origin or special need.
For more information, contact the Camp Office at 502-238-2718 or campj@jewishlouisville.org.