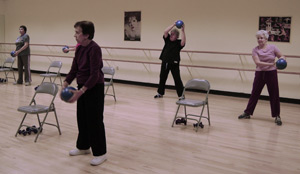 Group Fitness classes are offered to members only, FREE, as part of their JCC membership. Descriptions of classes are listed below. Click here for a full schedule of classes. To register or for more information please call the Health and Wellness desk at 238-2727.
Chair Exercise
Cardiovascular exercise with music includes stretching, bending and chair routines to help muscles and joints stay flexible.
Body Mechanics
Going strong for 69 years, this class strengthens and stretches your body. This is not your typical high impact aerobic class. You will get a safe and effective non-aerobic workout. You will improve your flexibility, balance and muscle strength.
Light Weights
This class incorporates weight bearing and muscle resistance exercises at a slow pace isolating each muscle group with proper breathing and stretching techniques. Increase muscle, flexibility and build up bone density.
Senior Aerobic Class
Senior Aerobics is a low impact aerobics class that improves flexibility, cardio vascular, and is a revitalizing work-out that gives you more energy, confidence and satisfaction.

Swimnastics
Light aerobic exercise in the water. This class includes strengthening endurance, range of motion exercises and stretching. This is a perfect class for those suffering from arthritis and other related problems.