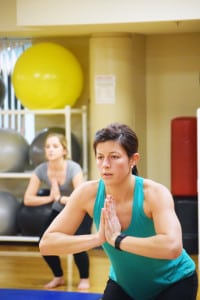 JCC Member Appreciation Week 2016 – The JCC wants members to know just how important they are, so it's devoting seven straight days to showing them.
Membership Appreciation Week is Monday, February 15-Sunday, February 21, and each day will have a theme and special bonuses for JCC members.
We will kick off our appreciation week with Membership Monday. From 4:30-7 p.m., our younger members, ages 5-12, can play in a bouncy house, get their faces painted and take a fun fitness class.
Next comes Try it Tuesday, a fitness free-for-all. Members can participate in some of our specialty small group fitness classes that normally cost extra for free. Choose from WOW (Women Only Workout), Golf, TRX or Kettlebell Kraziness.
On Wellness Wednesday, blood pressure/body composition measurements will be given by JCC Health Coaches from 8-10 a.m. and 5-7 p.m. In the afternoon, a nutritionist will be on site to answer your eating and nutrition questions.
Thirsty Thursday features 100 free water bottles and free smoothies for a limited time throughout the day.
Celebrate the end of the week by bringing a buddy to the JCC on Free Friend Friday. All members can bring up to 2 guests to attend classes or use the fitness center at no cost.
We will keep the momentum going with Sample Saturday. This is your opportunity to try out three different free group fitness classes offered at the JCC all within a one hour timeframe. We will offer 3 different 20 minute group fitness classes merged into one class.
And on Spa Sunday, the finale of Membership Appreciation Week, members can unwind with free 10-minute chair massages provided by the JCC's licensed massage therapists.
For more information contact Matt Vamvas at 502-238-2791 or mvamvas@jewishlouisville.org.