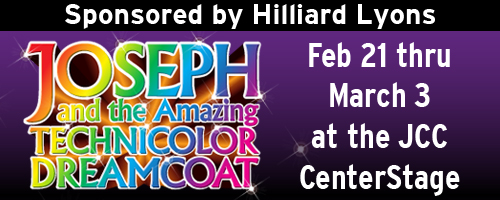 With a cast of more than 60, CenterStage is bringing one of the best-loved Biblical dramas to life with Joseph and the Amazing Technicolor Dreamcoat, presented by Hilliard Lyons, now through March 3 at the Jewish Community Center.
Billed as the follow-up to Jesus Christ Superstar, the musical by Andrew Lloyd Webber and Tim Rice tells the story of Joseph and his coat of many colors. With virtually no dialogue, Joseph and the Amazing Technicolor Dreamcoat is sung in a cornucopia of musical styles, ranging from country-western and calypso to bubble-gum pop and rock 'n' roll. "This show is guaranteed to make you smile throughout the entire production as it teaches us that faith can overcome despair," says Greg Vincenti, the title sponsor of the show.
CenterStage made their mark on Louisville's theater community with its 2004 production of Joseph and the Amazing Technicolor Dreamcoat. "This will be the fifth time I have directed Joseph and I'm equally excited for this production as I was for the first," said John R. Leffert, CenterStage Artistic Director.
"What CenterStage and John R. Leffert bring to its audience is a rousing, joyful, spectacular extravaganza which displays some of the very best talent in our community," says Vincenti.
Kate Reedy, who recently played Mimi in RENT and Sarah in Company will star as the Narrator and Robbie Lewis, recently seen as Gabe in Next to Normal, will don the coat of many colors and lead this production as the title character, Joseph. Jeremy Moon, who played Joseph in both prior productions, will be featured as a brother and "Angel in Heaven" soloist. Gene Dorf, a longtime CenterStage favorite, will reprise his role as Jacob.
Performances are February 21, 23, 25, 28 and March 2 at 7:30 p.m. and February 24 and March 3 at 2 and 7 p.m. Tickets cost $18 in advance or $20 at the door and are on sale now. Children, age 10 and under, receive a $4 discount. Call 459-0660 today to reserve your tickets for Joseph and the Amazing Technicolor Dreamcoat, because they're sure to sell out.