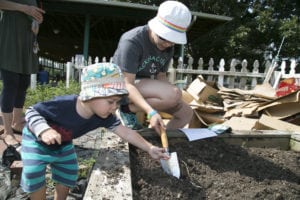 Garden enthusiasts and community members interested in food justice came to the pavilion at The J on Sunday, July 31, for the Summer Seeding event, where they planted seeds for crops to be harvested in the fall, learned about New Roots and the Gendler Grapevine Fresh Stop Market and participated in a variety of food-related activities.
Sara Klein Wagner, president and CEO of the Jewish Community of Louisville, explained that Jeff Tuvlin first heard of JOFEE (Jewish Outdoor, Food and Environmental Education), a Hazon program, when he attended a Jewish Community Centers Association (JCCA) Biennial, and brought the idea back to Louisville. With his leadership, Louisville became one of only six JCCs across the country participating in the JOFEE Fellowship pilot program.
Guided by JOFEE Fellow Michael Fraade, Margaret Mazanec, Emilio Bartlett, Emma Kronenberg and Dafna Schurr, volunteers planted beets, buckwheat, cabbage, radishes, squash, turnips and wildflowers in newly turned beds behind the pavilion. Fraade made sure everyone who wanted had the opportunity to plant.
At Jenna Koff's pickling workshop, there was an ample supply of cucumbers, dill and pickling spices. Everyone who stopped at her table had the opportunity to make a small jar of dill pickles to take home.
To ensure that everyone had the opportunity to experience tasty, healthy, fresh vegetables, chef and health coach Mat Shalenko prepared a summer vegetable salad that included potatoes, squash, green beans, grape tomatoes, cucumbers, bell peppers, celery, basil and onions, all of which are all available now from local farmers. He demonstrated how to make the salad and served up plates of it paired with fresh cut watermelon.
Faina Kronenberg coordinated a children's scavenger hunt; Johanna Sims and Emily Wood were there with games, giveaways and samples from Rainbow Blossom; and Lisa Berlow shared information about the Jewish Family & Career Services Food Pantry and accepted donations.
Creating public gardens to grow food is a priority for the city of Louisville, too. Theresa Zawacki, the senior policy advisor for Louisville Forward for Louisville Metro, talked briefly about the city's program to create gardens on vacant lots and the government's efforts to make healthy, fresh foods available in underserved areas.
A highlight of the program was an informational session, led by New Roots Executive Director Karyn Moskowitz, about the initiative that will result in the opening of Louisville's 10th Fresh Stop Market at The J. With the opening session scheduled for Wednesday, September 7, 4:30-6:30 p.m., the Gendler Grapevine Market will be the first Fresh Stop Market in the east end.
A Fresh Stop Market operates on a model similar to a CSA (community supported agriculture) program. The organizers negotiate with local growers to secure a variety of farm fresh produce for distribution through the Fresh Stop Market. Fresh Stop Markets sell shares that must be paid in advance, and on market day, subscribers pick up their shares that include at least 10 different varieties of produce with a retail value of approximately $40.
Where the Fresh Stop Market differs from a CSA is in how it sells shares. Shares are offered on a sliding scale – $6 for families on WIC, $12 for families with limited resources and $25 for all others. In addition, the Gendler Grapevine Market will encourage those who are able to donate more than the asking price to enable those who cannot afford the modest fees to access the food. No one will be turned away for inability to pay, but to succeed, the market must generate enough revenue to cover costs.
While most of the produce at the Gendler Grapevine Market will go to fulfill share orders, excess produce New Roots receives will be offered to walk-up customers on market day. To purchase shares online go to http://www.newroots.org/store/c16/Gendler_Grapevine.html. After you select your payment level, you will be taken to a secure site where you can make your purchase. If you would like to make a donation above the cost of your share, you will need to do that separately in the donate area of the site.
"Our goal is to inspire at least 15 more community members to join our organizing team for this Fresh Stop Market. Once we get our core team ready, we will begin to reach out to the broader community to order their shares," said Fraade. "In addition, we would like to pilot the first year-round Market here and go through the winter. We are working with Ashbourne Farms to forecast our winter vegetables, which will be grown under high tunnels, to explore what can be done."
Those interested in helping make the Gendler Grapevine Fresh Stop Market a success by becoming involved as leaders, volunteers, or shareholders should contact Moskowitz at 502-475-8979 or info@newroots.org. Fun volunteer tasks include becoming a liaison to the chefs who do cooking demos at every Market, helping set up and break down the Market, becoming a veggie cheerleader and more.
The Gendler Grapevine Market is supported by a grant from the Gendler Grapevine Foundation, an organization founded by environmentalist pioneer Rabbi Everett Gendler to promote Jewish and interfaith sustainability projects across the country and is a partnership with The J's JOFEE Fellow Michael Fraade and other J members and staff.
Editor's note: Some of the information for this article was provided by New Roots.