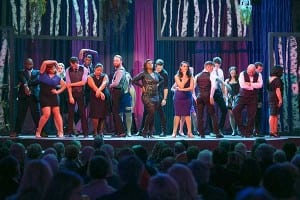 The stars of CenterStage must have worked some major magic with their cool and seductive rendition of "Big Spender" at the "Enchanted Evening"-themed Light Up CenterStage gala on Saturday, December 5.
Shortly after the ensemble performed the "Sweet Charity" classic, JCC Development and Special Events Director Lenae Price and auctioneer Rick Wardlow managed to secure $160,000 in donations for the Acting Out children's touring theater troupe in a matter of minutes.
Halfway through the dazzling Broadway revue in the pink and lavender-lit Linker Auditorium, Price took the stage to focus on the evening's purpose: fundraising for CenterStage's Acting Out. This vital program brings full professional productions into local schools, particularly Title I schools, where students wouldn't otherwise get to experience live theater. CenterStage Artistic Director John Leffert started Acting Out in 2012.
Price explained that the Jones Family Fund promised $15,000 to Acting Out for each of the next five years. The twist, Price said, is that it is a matching grant, which means that the JCC needs to raise $15,000 a year in order to receive the funds.
She asked the audience to make five-year commitments in any amount right then and there. And, in a triumph for CenterStage and arts education, Light Up attendees pledged over $85,000 in 5-year commitments, surpassing the $75,000 match opportunity from the Jones Family Fund and bringing the total raised for Acting Out to $160,000.
Thousands in additional funds were raised through the live and silent auctions.
Knowing what a great cause Light Up supports makes the JCC's most elegant evening of the year even more enjoyable.
Gala-goers in sharp suits and glam gowns sipped cocktails, socialized and sampled appetizers by Chef Z, including salmon tartlets and small potatoes stuffed with caramelized blue cheese.
The JCC was dressed and accessorized to the nines in leaves and vines, white-fabric draped walls reflecting bright green light, flickering lanterns dangling with moss and wooden gazebos creating a magical secret forest effect.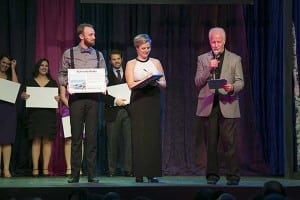 "It's very beautiful how they did it," said Ann Leah Blieden. She and her friend Esther Fox were especially fond of the creamy, warm peach bread pudding.
"It is to die for," Fox said. "It's like a peach soufflé."
Attendees lined up for flaming bananas foster, and also indulged in thick, rich raspberry chocolate cake and pretty petit fours.
They also kept busy bidding on silent auction items, from vintage Chanel earrings, to basketballs signed by local sports luminaries, with Clickbid mobile bidding software.
This was the first year Clickbid, which allows bidders to keep up on bids and re-bid via their mobile devices, was used at Light Up.
Blieden said she was initially intimidated by the new bidding method, but helpers who were on hand to familiarize folks with the process made her more confident.
"Once I started it got easier," she said. "You don't know who is bidding against you which is good, because usually if I know a friend is bidding on something, I don't bid."
Light Up guest Michele Conliffe used Clickbid like a pro.
"I used it one other time at an event earlier this season and I really, really liked it," she said. She was pleased to see that Clickbid didn't turn the Light Up partiers into a bunch of anti-social robots
"I thought everyone would have their nose in their phone," Conliffe said as she bid on jewelry.
"I'm already outbid on the necklace I wanted," she said. "I just got the text." Conliffe's husband Michael appreciated the freedom of bidding from anywhere, as opposed to stalking the auction item tables set up in the first floor basketball and racquetball courts.
"You can control things without knocking anyone over or breathing down anybody's neck," he said.
The live auction in the Linker Auditorium was held in the traditional fashion, with talented, fast-talking auctioneer Rick Wardlow leading the proceedings.
Husband and wife and new CenterStage sponsors Chris and Joanna Federico walked away with one of the hottest items of the night; the "Material Girl" package, which includes tickets to Madonna's sold-out "Rebel Heart" concert at the Yum! Center and brunch at The Oak Room at The Seelbach Hilton.
Neither of the Federicos are major Madonna-holics, but they said they know the Queen of Pop is going to put on a great show.
"It just seemed like something fun to do and it's for a good cause," Chris Federico said.
They may not be mega-fans, but they do have a favorite Madonna hit.