At the packed, buzzing opening reception for the juried Annual Mazin Art Exhibit in the Patio Gallery on Sunday, November 22, many people paused and pondered in front of the first prize-winning piece, "Fusion." The enigmatic earth-toned multimedia work shows four conical faces connected by threads to a large boulder-like item.
"I'm trying to figure it out," said Mazin artist Sarah O'Koon. "It's challenging. It draws you in and makes you think, what is this artist trying to say to me?"
The meaning behind "Fusion" was never revealed. Its creator, Russie Wight-Waltman, wasn't there to explain it because she was sick and not able to attend the show.
The work's puzzling quality was part of what made Mazin juror Luanne Rimel pick it as the winner of the first-place ribbon and $1,000. "There's a lot of mystery in that piece," Rimel said during the prize presentation.
Rimel, a St. Louis-based textile artist and experienced juror, culled 129 Mazin submissions down to 29, and also chose the winners.
She said narrowing the entries down was a major challenge, and that she was impressed by the range of inspired work she saw in the process. "It never stops amazing me what people make and how the creative spirit lives in so many of us and we have to make our ideas become visual in some way." Second place and $500 went to Tom Pfannerstill's enamel-painted basswood "portraits" of a band aid box and oil can titled "Band Aid" and "3-in-One."
"I'm overjoyed. It's wonderful," Pfannerstill said. "I sent a similar piece to another show and it was rejected."
Third place and $300 went to Alexander Taylor's oil painting "Woodford Reserve Distillery." Taylor said he hadn't planned to paint the Distillery the day he visited it for the first time, but he was unexpectedly charmed and inspired by it.
"It was a beautiful day and I took a few photographs," Taylor said. "I loved the way the light was hitting the building. Most of my work is architectural, cityscapes or landscapes, so it's right up my alley."
Vickie Wheatley's bright textile piece "Las Ruinas" and Paul Reynolds' bleach on paper piece "Wood," both received honorable mentions.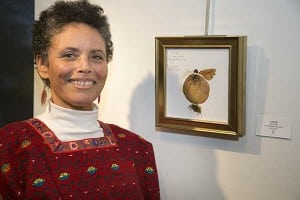 The winners reflected the wide variety of styles and media comprising the show. Other memorable and unconventional pieces include Craig Kaviar's "Illumination," an alluringly ancient- looking forged iron menorah; Barbara Tyson Moseley's "Button," a button-covered contemporary ethnic doll; and Kevin Schultz's "Mermaid, a crochet lace sculpture of a female torso that looks like it is about to wiggle off the wall.
Jana John, a local artist and co-owner of Gallery Janjobe in the Mellwood Arts and Entertainment Center, marveled at "Mermaid."
"The intricacy is just amazing," she said. "It must have taken forever."
Patio Gallery Director and accomplished textile artist Bette Levy was beaming with pride as she kept busy mixing and mingling with the artists and gallery-goers.
"I think the show is terrific. Luanne worked really hard to make sure she had a good representation of different types of art work," Levy said. "This is one of the largest turnouts we've ever had. Our group shows bring out all of the artists and all of their families."
After Rimel announced the prize-winners, Levy received a surprise tribute honoring her for 15 years tirelessly working to make the Patio Gallery a premiere destination for the art community in addition to managing her own thriving art career. (See story.)
It was the perfect time and place for the tribute because so many of the artists and colleagues Levy has worked with over the years were there to share the moment.
In brief comments, JCL President and CEO Sara Klein Wagner said, "Bette has given many hours and years making sure our gallery is successful and beautiful. She has been the leader, making everything happen and we just wanted to say thank you."
The attendees applauded and Wagner and Levy hugged. Then Wagner presented Levy with a big present wrapped in polka-dot paper, which Levy didn't open until close to the end of the reception. The gift was a fabulous frosted glass menorah with multi-colored studs. "It's fantastic," Levy said. "It's going to be so gorgeous with the candles burning."
The Mazin Art Exhibit was created 10 years ago by Bernice and Benjamin Mazin, z"l, and is funded by the Mazin Visual Arts Fund.
"The Mazins were on the JCC's Visual Arts Committee and wanted to have a show that would celebrate local artists, so they set up a fund to underwrite the cost of having it on an ongoing basis," Levy said. "We are so grateful to Bernice and Benjamin and their family."
Judy Hummel, the Mazins' daughter, was at the opening. She was grateful that the tradition her parents started is more popular and relevant than ever.
"I think it's a beautiful show and I love that we got somebody from St. Louis to judge. The piece that won, I really like. It's so cool and so different. I was taken by it," she said. "The show is growing and I feel very pleased. I pray it stays this way for a long time."
The Mazin Annual Art Exhibition will remain in the Patio Gallery through December 29.