When Israel's Consul General Yaron Sideman came to Louisville on August 17 from his Philadelphia office, he met with a group of community leaders and Israelis who now make their homes in Louisville. While he made it clear that the consulate deals with a wide variety of issues and he was more than willing to discuss any of them, those who came to hear him were focused on the agreement to limit Iran's nuclear capabilities in return for sanctions relief.
Israel's number one foreign policy issue, Sideman said, is to prevent Iran from becoming a nuclear power. "We are looking at a Middle East that's unstable and unforeseeable," he stated. "Every day a new bad actor surfaces, creating havoc." None of them, however, poses an existential threat to Israel except Iran.
"We firmly believe that this agreement paves the way for Iran to become a nuclear power in 10 years, legitimately," Sideman continued.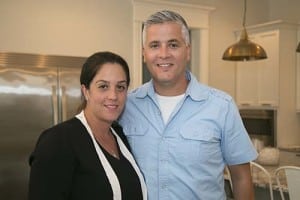 While these were his only comments about Iran during his formal presentation, the consul general left plenty of time for questions and many of those in attendance asked about Iran.
Asked about the mixed and tepid response of the organized Jewish community to the agreement, Sideman acknowledged that the American Jewish community is not united. "The Jewish Federation system has been cautious before producing statements," he said. Many have not yet made a decision. "What we see," he continued, "is responsible reaction, not a knee jerk reaction. Many Jewish communities want to go through the agreement and an education process," but he also urged the communities to "do it quick."
Sideman called the deal "bad on many counts" and added, "it has deficiencies from here to eternity. The main reason it is problematic is it gives Iran a license for a robust nuclear program, and Iran has no other need for a nuclear program other than military."
He also pointed out that the agreement has a "very short expiration date" – just 10 years – and Iran already has a robust intercontinental ballistic missile (ICBM) program. "The agreement stipulates," he said, "that eight years from now, the embargo that exists [on the missiles] will be lifted" and at that time, it will be legal for anyone to help Iran further develop its capabilities in that area.
Asked about the consequences should Congress reject the deal, Sideman said the ball would be back in Iran's court. They could choose to comply with it anyway or to disavow it. If Iran rejects the deal, the sanctions would go back in place, although it would be difficult to bring all the countries back into agreement on the reimposition of the sanctions. If Iran complies, Iran gets what it wants in a few years without the sanctions.
In addition to discussing the Iran agreement, Sideman talked about the importance of the friendship between Israel and the United States. "Israel has no better friend and ally than the U.S.," he said. "The true test of deep friendship is the ability to absorb differences of opinion, to handle them and to be able to deal with disagreements when they arise.
He also talked about the purposes of embassies and consulates and the many partnerships, collaborations and friendships that exist between Israeli and American businesses, institutions and individuals.
Keren and Yariv Benabou hosted the event.
While he was in Louisville, Sideman also met with Rep. Andy Barr, the Lexington Jewish community, Kentucky Secretary of Agriculture James Comer, a number of Kentucky Business leaders and leaders of the Southern Baptist Theological Seminary.