The Center for Women and Families (CWF) will honor five Women of Distinction and present the Joan E. Thomas Lifetime Award for Peacemaking at the 29th Celebration of Service & Survival on Friday, February 26, 2016 at the Seelbach Hotel.
"The Center for Women and Families has been recognizing outstanding women in the community through the Women of Distinction Award since 1988," says Center CEO Marta Miranda. "An individual honored as a Woman of Distinction has given a lifetime of professional and/or volunteer services that has left an indelible mark on the Kentuckiana community."
Miranda continues, "Women of Distinction have made significant contributions to education, health care, civil rights, the arts, human services, the welfare of children and the advancement of women." To date 157 women have received this honor.
This year's honorees are Sharon Currens, executive director, Kentucky Coalition Against Domestic Violence; Laura Douglas, vice president, corporate responsibility and community affairs, LG&E and KU Energy, LLC; Joni Jenkins, Kentucky State representative, 44th Legislative District; Eileen Rectenwald, executive director, Kentucky Association of Sexual Assault Programs; and Sheila Schuster, Ph.D., executive director, Advocacy Action Network.
Sheila Schuster
Sheila A. Schuster, Ph.D. is a licensed clinical psychologist with graduate degrees from Purdue University and the University of Louisville, where she earned her doctorate in clinical psychology in 1973.
After graduating from UofL, Dr. Schuster spent 27 years in private practice, providing psychological services to families and children. In addition to providing expert evaluations on behalf of children involved in family dissolution issues, she was a consultant to a number of community agencies serving children.
Dr. Schuster has been an Adjunct Professor of Psychology at UofL and has presented numerous workshops and seminars. Leaving her clinical work behind in 2000, she now devotes her full-time work to public policy advocacy on mental health, health care and disabilities issues.
Dr. Schuster is currently the executive director of the Advocacy Action Network (AAN), an umbrella organization which includes the Kentucky Mental Health Coalition, Kentuckians for Health Care Reform, the United 874K Disabilities Coalition and the KY Medicaid Consortium. AAN provided the initial outreach and advocacy coordination for the Kentucky Voices for Health (KVH) coalition and its 250 member organizations; Dr. Schuster currently serves as chair of the KVH Board of Directors.
Because of her leadership in the 1990's in representing consumers' concerns around health care, Dr. Schuster was appointed by Governor Patton as the first consumer representative on the KY Department of Insurance's Health Advisory Council. She completed two terms as the Chair of the Foundation for a Healthy Kentucky, having helped in its formation and serving on the Foundation's board since its inception.
Dr. Schuster is a member of the KY Institute of Medicine and a graduate of Leadership Louisville. She has been recognized for her advocacy efforts to improve the quality and availability of health care in the Commonwealth and to assure that individuals with mental illness and other disabilities, children, and those without access have the supports and services that they need.
While advocacy is her passion, Dr. Schuster readily admits that her family – and especially her grandchildren – are her joy.
Sharon Currens
In May of 1987, Sharon Allen Currens became the first staff person hired by the Kentucky Domestic Violence Association (now Kentucky Coalition Against Domestic Violence), an alliance of Kentucky's 15 regional domestic violence programs.
Relocating to Kentucky from Washington, D.C. where she was the director of government affairs for the American Institute of Architects, Currens now holds the position of executive director for the Kentucky Coalition Against Domestic Violence.
During her tenure at KCADV, Currens has served on two Attorney General's Task Forces, a Legislative Task Force on Custody and Visitation, a Governor's Task Force on Domestic Violence, the Governor's Council on Domestic Violence and Sexual Assault, and the Kentucky Child Fatality and Near Fatality Review Panel.
Laura Douglas
Laura Douglas was named to her current position, Vice President of Corporate Responsibility and Community Affairs for LG&E and KU Energy, LLC, in November 2007. She is an active member of numerous professional organizations and civic boards including, but certainly not limited to, the Kentucky Bar Association, the Kentucky Women's Forum, the Law Club, and Women Influencing Louisville. Douglas is a board member for the Kentucky Governor's Scholars Program, the Muhammad Ali Center, and Actors Theatre of Louisville. She also sits on the board of directors for Republic Bank and the Housing Partnership.
As the result of a mayoral appointment, Douglas has served as chair of the Citizens Commission on Police Accountability since its inception. She also is a former Bingham Fellow, graduate of Leadership Louisville, and a former board chair of the Leadership Louisville Board of Directors. She is also the former Board Chair of Women for Women. Douglas also served on the Kentucky State University Board of Regents for 12 years and served as chair for six years.
Joni Jenkins
Joni Jenkins is currently serving her 11th two year term in the Kentucky House of Representatives as the 44th legislative district's state representative. Her district encompasses southwest Jefferson County and the Shively area.
Joni has spent most of her career within the public sector working for Jefferson County government, the University of Louisville, JCTC, and state government. She also worked at the Center for Women and Families where her interest in women's advocacy developed into a lifelong passion.
As a state representative, Jenkins has been a champion and fearless fighter for women's issues. Her first bill passed by the Kentucky General Assembly required a sexual assault nurse examiner to be the intake official on rape and assault victims.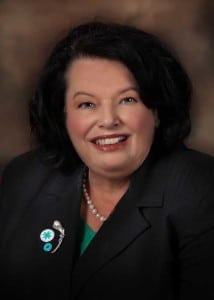 Eileen Recktenwald
Eileen Recktenwald is the executive director of the Kentucky Association of Sexual Assault Programs, a statewide coalition of 13 regional rape crisis centers, and she has held this position since 2001.
Recktenwald is a graduate of the University of Maryland and the University of Kentucky where she earned her Master's Degree in Social Work. During her time at Mountain Comprehensive Care Center, a behavioral health service organization located in the Appalachian region of Kentucky.
For the last decade, Recktenwald has been focused on the primary prevention of sexual violence and changing the social norms that encourage interpersonal violence.
The Joan E. Thomas Lifetime Award for Peacemaking recognizes an individual whose work exemplifies a deep commitment to social and economic justice.
On the evening of The Celebration of Service and Survival, the 2016 Joan E. Thomas Lifetime Award for Peacemaking will be presented to Christopher 2X, anti-violence community activist and co-producer of the Hood 2 Hood Movement.