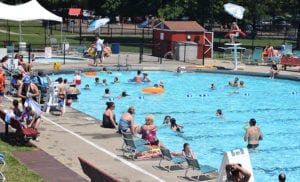 At The J there always are fun events going on year round, but this weekend is something very special: the start of the summer membership, the opening of the outdoor pool and the Family Festival and Yom Ha'atzmaut Celebration.
The summer membership runs from Saturday, May 27 to Monday, September 4, and costs $375 for an individual and $510 for a family. It's perfect for families who need to cool off during the hot summer months and want to enjoy the numerous offerings here at The J, but are too busy during the school year to commit to a year-round membership. The summer membership gives the same perks and benefits as the year-round membership, including access to the indoor and outdoor pools, the fitness center and discounts on summer camps, performing arts shows, and more!
The grand kick-off for summer is the Family Festival and Yom Ha'atzmaut Celebration this Sunday, May 28, from 11 a.m. to 2 p.m. at The J. Yom Ha'atzmaut is a celebration of Israeli independence, and this year will be merged with the annual Family Festival to create a mega party! This event is open to non-members in addition to members, so all are welcome. There will be Israeli themed food, snacks from local vendors including Steel City Pops, arts and crafts, Israeli folk dancing, pool games,and more! Lenae Price, The J philanthropy and outreach director, is very excited for this exciting event to bring the entire community together, both members and non-members
Some additional fun events going on this summer include the Fourth of July party and the dive-in movie event September 3rd. The dive-in movie is a last hurrah of the summer, where families can watch a movie projected on a large screen while enjoying the outdoor pool.
The JCC offers swim lessons from age 3 months through adult, and has a swim team, the JCC Gators, for ages 5-18. For adults, there a variety of water fitness classes offered. In addition, there are plenty of day camps for kids of all ages and interests, and the summer membership will provide a discount for all those fun camps.
Be sure to stop by the JCC with the family this weekend for some summer fun! For more information on summer memberships, visit jewishlouisville.org/jcc-summer-membership/.