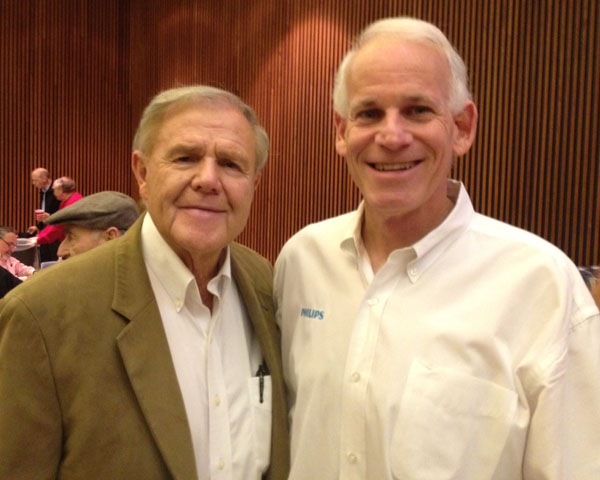 The Temple Brotherhood drew 84 people to the Coach Denny Crum Dinner on February 5 at The Temple. The College Basketball Hall of Famer and winner of two national championships made a point to meet everyone in attendance and posed for countless photos.
The very humble Coach Crum talked about the person who most influenced his career, UCLA's ten time national champion Coach John Wooden.
Proceeds from the dinner and a raffle for an autographed basketball benefited the Coach Denny Crum Scholarship Fund. Dr. Mel Koby won the coveted prize.
Also present in the audience was former team doctor, Nat Zimmerman; former team hypnotist, Dr. Stanley Frager; and former ball boy for the 1980 champion team, Matt Schwartz.
Temple Brotherhood membership is open to all Jewish men and non-Jewish men with Jewish partners and is a major supporter of community programs such as the Jewish Film Festival, Chavurat Shalom and scholarships to Camp GUCI (Goldman Union Camp Institute).