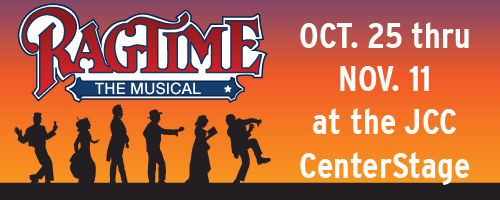 CenterStage is going back to the early 19th century for its next performance, Ragtime, which opens on October 25. Based on the 1975 novel by E.L. Doctorow, Ragtime tells the story of three groups in the United States and how generational differences can change perceptions.CenterStage's production of Ragtime will run from October 25-November 11.
With music by Stephen Flaherty and lyrics by Lynn Ahrens, Ragtime won Tony Awards in 1998 for Best Score, Best Orchestration and Best Book of a Musical.
Ragtime is the story of three families from very different backgrounds and how their lives are interwoven. The upper class Protestant family headed by Mother represents rich white neighborhoods, Coalhouse represents African-American families and Tateh, a Jewish immigrant, represents the immigrants from Eastern Europe.
The three worlds collide when Mother finds an African-American baby in her garden. Mother takes in Sarah, the baby's mother. Coalhouse comes to the house often, trying to win Sarah's affection. Meanwhile, Mother's Little Brother falls for Evelyn Nesbit, a vaudeville personality. Nesbit becomes enchanted with Tateh's daughter Little Girl. Little Brother follows Evelyn Nesbit to an anarchist rally held by Emma Goldman where he takes up arms during a riot and eventually joins Coalhouse's gang.
Tickets for Ragtime are on sale now and cost $18 in advance and $20 at the door. They can be purchased online by clicking here or over the phone by calling 502-459-0660.