The 15th Annual Louisville Jewish Film Festival strives to show the richness and diversity of the Jewish experience by presenting the best contemporary international films. Through feature films, shorts, documentaries and student films, as well as conversations with guest speakers, the festival explores Jewish identity with the hope of increasing tolerance and educating its audiences. Some of the films we have shown have gone on to be nominated for Academy Awards and remade into Hollywood films. Many of them have received Israel's highest awards for films. Since our beginning over 100 outstanding films have been shown at a variety of venues accompanied by exciting speakers and receptions.
Prices: $8.50 in advance, $10 at the door, $6 student unless otherwise stated. On the day of the show, tickets will be available 1 hour prior to the film at the venue. Tickets to all films are available online at jewishlouisville.org/filmfestival, by phone at 502-459-0660 or in person at the JCC (3600 Dutchmans Lane).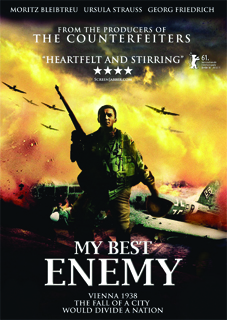 My Best Enemy
Saturday Feb. 9, 7:30 p.m.
Village 8 Theatre
This fast-paced, suspenseful thriller features two friends in Nazi occupied Europe. The son of a wealthy art dealer and the son of their housekeeper are lead to swap identities in an adventure to recover a priceless piece of stolen artwork while the beautiful Lena must choose between them.
Austria, 2011, 109 Minutes
Purchase Tickets | View Trailer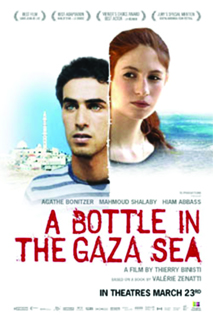 A Bottle in the Gaza Sea-Special Event-tickets sold out
Sunday Feb. 10, 2:30 p.m.
Free admission-Call for a ticket to assure admittance
To view the museum prior to the film $2
Muhammad Ali Center
144 N. 6th St. 40202
The LJFF in partnership with the Muhammad Ali Center will present the film A Bottle in the Gaza Sea followed by moderated discussion and dessert. Visitors are encouraged to come early and explore the exhibits at the Muhammad Ali Center. A discussion will be led by Rabbi Joe Rapport from The Temple after the movie.
Tal experiences a terrorist attack at her local café, but refuses to succumb to hatred and blame. She slips a message of peace in a bottle that she asks her brother to throw into the sea while he is on patrol near Gaza. She eventually receives an email response from NaÏm, a teenaged Palestinian and the two develop a friendship through email. While revealing the huge stress under which they live, the film is a mix of both hope and hopelessness.
France, Canada, Israel 2011, 99 Minutes
View Trailer
The Flat
Tuesday, Feb. 12, 7 p.m.
Village 8 Theatre
Awards: Best Documentary and Best Director Jerusalem Film Festival
This documentary begins with the emptying of a flat when the Goldfinger family discovers a preserved issue of a pro-Nazi newspaper among their dead grandmother's things. Shocked to learn that his grandparents maintained a friendship before and after the war with a Nazi official and his wife, the filmmaker's investigation exposes powerful barriers of denial.
Israel 2011, 97 Minutes
Purchase Tickets | View Trailer
Remembrance
Wednesday, Feb. 13, 7 p.m.
Village 8 Theatre
Awards: Audience Award Berlin Film Festival and Best Drama Los Angeles Jewish Film Festival
In this epic romance based on actual events, a Polish partisan man and German Jewish woman forge an unshakeable bond during the Holocaust. After a daring escape from a Nazi death camp, Tomasz and a pregnant Hannah are forcibly separated and each is convinced the other has died. The events of 1944 Poland are juxtaposed with 1976 Brooklyn, where an older Hannah glimpses a television interview that makes her realize that Tomasz might still be alive. A spiral of emotions and moral ambiguities are triggered, as Hannah must now confront her unresolved past.
Germany 2010, 106 Minutes
Purchase Tickets | View Trailer
Kaddish for a Friend
Saturday. Feb. 16, 7:30 p.m.
Village 8 Theatre
Award: Audience Award Winner Boston Jewish Film Festival
Growing up in a Palestinian refugee camp, 14-year-old Ali learns to hate Jews at an early age. When he and his family escape to a new life in Berlin, Ali yearns to be accepted by fellow Arab youths. To prove himself, he breaks into the apartment of his neighbor, Alexander, a feisty, elderly Russian Jewish war veteran. When Alexander catches the boys during the robbery, he recognizes Ali, whom he reports to the police. To avoid deportation, Ali must seek out the trust and forgiveness of his enemy.
Germany 2011, 94 Minutes
Purchase Tickets | View Trailer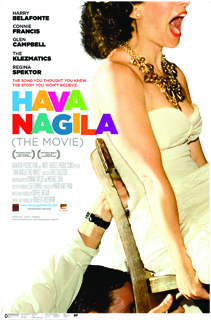 Hava Nagila and Lost Tribe Klezmer Band-Special Event
Sunday, February 17, 4 p.m.
Adath Jeshurun
$22 Adults, $8 Students
Sung by Harry Belafonte, Connie Francis, Elvis and many others, Hava Nagila is one of the most famous pieces of music in the world. The tune is the Jewish staple you dance to at weddings and Bar/Bat Mitzvahs. The film encapsulates the Jewish journey over the past 150 years from shtetls to kibbutzim to America, revealing the power and joy of the song.
USA, 2011, 73 Minutes
Following the film enjoy eating, seeing friends and listening to the fabulous Klezmer music of Lost Tribe.
A Vaad-approved option will be available upon advance request.
Purchase Tickets | View Trailer
Three films from The Ma'ale School of Television, Film and the Arts in Jerusalem
Sponsored by The Temple Brotherhood
Monday, February 18, 7 p.m.
The Temple's Waller Chapel
Free
Followed by a dessert reception provided by the Louisville Jewish Film Committee and The Temple. A Vaad-approved option will be available upon advance request.
Barriers
Uri and 2 soldiers under his command are manning a checkpoint in the territories. Two women from the "Watch" organization interfere with their work. He is ordered to close the checkpoint due to a bomb threat.
The Divide
Kobi has joined the army despite his parent's opposition. He returns home for Shabbat before he is given the award for Outstanding Soldier and discovers that an order has been given for his family's eviction.
Stand Up
Dudi is learning in a yeshiva to become a teacher. His wife doesn't know he spends most of his time trying to be a stand-up comic. His friends find out and he is scared his wife will discover his secret.
Wilfrid Israel & Follow Me
Wed. Feb. 20, 7 p.m.
Village 8 Theatre

Wilfrid Israel
This film is co-produced by Bonnie Bizer, whose cousin was a founder of Kibbutz Hazorea.
Wilfrid Israel inherited the largest department store in Berlin. An art collector, he donated priceless pieces to Kibbutz Hazorea, which he helped establish in 1936. With the use of photographs, interviews and archival material relating to the Nazis, the film reveals a man driven to save many lives through the creation of a children's settlement in Palestine and involvement in the operation and financing of the Kindertransport. Israel helped hundreds of his employees to emigrate and provided funding to them for 2 years.
Israel 2012, 30 Minutes
View Trailer

Follow Me: The Yoni Netanyahu Story
This poignant biography depicts Yonatan Netanyahu, an army commando killed in Operation Entebbe and brother of current Israeli Prime Minister Benjamin Netanyahu. The film contains his introspective writings and shows his passion and human frailty. The journey comes to a crossroads in July 1976 as Netanyahu leads a raid to rescue Israeli hostages from a hijacked flight at Uganda's Entebbe airport. Newly revealed information and interviews with his brother, ex-wife and Ehud Barak, defense minister, are enlightening.
USA 2011, 83 Minutes
Purchase Tickets | View Trailer
My Australia
Thursday, Feb. 21, 7 p.m.
Village 8 Theatre
Awards: Audience Award Jerusalem Film Festival 2011
A touching drama set in the 1960s, ten-year old Tadek and his older brother Andrzej live in a working class neighborhood in Poland where they are part of a gang with neo-Nazi affiliations. After being arrested for beating up Jews, their mother confesses to them that she is a Holocaust survivor. She decides she must remove them from their toxic environment and tells them that they will be moving to Australia, when in fact, their destination is Israel. There they struggle to find their identity, while building a new life in a foreign land.
Israel, Poland 2011, 100 Minutes
Purchase Tickets | View Trailer
Donate to the Film Festival Today! Just be sure to select "Jewish Film Fest" from the drop down menu.
$500-$999 EXECUTIVE PRODUCER: Receive twelve film tickets of your choice, including 2 to the opening and closing events, and name listing in Festival Program
$250-$499 PRODUCER: Receive six film tickets of your choice, including 2 to the opening and closing events, and name listing in Festival Program
$118-$249 DIRECTOR: Receive four film tickets, not including opening and closing events, and name listing in Festival Program
$36-$117 ACTOR: Name listing in Festival Program