Shalom!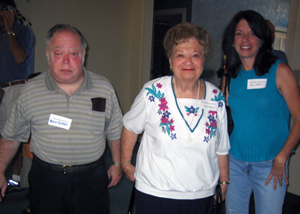 We're delighted to welcome you to Louisville's Jewish community, a growing commonality of over 8,300.  The JCL strives to connect all agencies and organizations within the Louisville Jewish community to provide every one a one-stop source for Jewish Louisville information.
Let us know you're here! Sign up so we can say hello and keep you informed.  Interested in meeting the community? There are hundreds of events and activities – including events specifically designed to meet and welcome you to our community. Let us introduce you to our (huge) family!  Visit our Calendar to see what's happening now!
Stay connected and visit the Community, the largest Jewish community newspaper in Louisville.  Running every other week, it's jam packed with articles on events both local and abroad relevant to the Jewish community.
There's no faster, or better, way to connect than volunteering!  The JCL has volunteering opportunities for all interests, skill sets, and walks of life.  Help build a house, join a planning committee, coach a sport and so much more!  Gifts of time and talent broaden the community and enrich your own life.