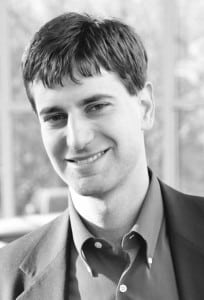 Growing up in Bowling Green, Ben Vaughan didn't get the opportunity to engage with other Jewish children or the larger Jewish community. When he moved to Louisville, he jumped at the chance to work with the Jewish community in Louisville as a volunteer and lay leader.
After 10 years of volunteering, he decided he wanted something different. Something was missing, he said.
"I discovered that missing piece during a Partnership program in 2012," he said. "This was a new experience for me. Young adults from communities in Budapest, Western Galilee, Louisville and Indianapolis were brought together with an intent to create bonds and understanding." This experience and conversations he had with a couple of Cabinet members at the 2014 GA in Washington, D.C., had Vaughan contemplating another option.
This inspired him to join Jewish Federations of North America Young Leadership Cabinet. The Cabinet is a group of young adults in their 20's, 30's and 40's who gather, travel and volunteer together to help make a difference in their communities.
With more than 4,000 alumni, the Cabinet is the premiere leadership program throughout JFNA. Today, more than 300 young adults from more than 40 communities are active participants. Some of the most highly regarded leaders in the Jewish community today are Cabinet alumni, and many of the rising stars are current members. $2.4 million is raised annually by current NYL Cabinet members.
"Having previously participated in Birthright [Israel] and solidarity missions, I was amazed at the difference of this experience," Vaughan said. He went to Denver July 29-August 2 for the YL annual retreat. "It opened my eyes, not just to the idea of cross-community participation or engagement with Israelis, but to the wider variety of Jewish communities from across the world. Here was a group young adults rediscovering their Jewish roots. After being one of a handful of young participants, I was suddenly surrounded by a community of peers – Jewish peers."
Vaughan was originally apprehensive about joining, fearing he wouldn't be able to make such a major commitment of time and money to a single purpose. But he eventually decided that he wanted to pursue this opportunity to step outside his comfort zone.
Admission to Cabinet requires a nomination from the local community as well as an application and interview. The process is highly competitive and requires a minimum annual gift of $5,000 to the Federation Campaign. The nomination term is six years, with a possible seventh.
"The feeling of connection that I took away is something I have not experienced before," he said. "Two-hundred young adults, leaders within their respective communities, from across the continent – North Carolina, Arkansas, Toronto, San Antonio, Mexico, San Francisco, etc. – each with a purpose and dedication to their communities. Some had been longtime participants in the Jewish community, while others were just getting started. Yet, we all shared the same intense passion for Jewish causes and peoplehood. Were there conflicts and differences of opinion? In a room full of Jews? Naw."
The group had lively discussions revolving around the nature of community and their connection to the outside world. "But, there was a common goal: To build bridges with others through which support, community, conversation and understanding to improve ourselves and our community. We were pushed forcefully and gently to engage, understand and share our experiences with one another."
Vaughan said he felt comfortable in the knowledge that, "We do not face our challenges alone. Others see them and stand with us as we confront them. Every community has a voice, purpose, and need.
"In the end we are one giant family, and that is what Cabinet brought to the forefront for all up-and-coming Federation leaders willing to step forward."
Vaughan is a software engineer at Alliant Technologies. He is not affiliated with a synagogue.
Other Louisvillians have been members of JFNA's Young Leadership Cabinet in the past, but it has been several years since our community has been represented. Among them are Karen Abrams, Marc Abrams, Jerry Abramson, Mickey Baron, Tracy Blue, Shellie Branson, Ed Cohen, Ralph Green, Joe Hertzman, Lori O'Koon and Mandy Vine.