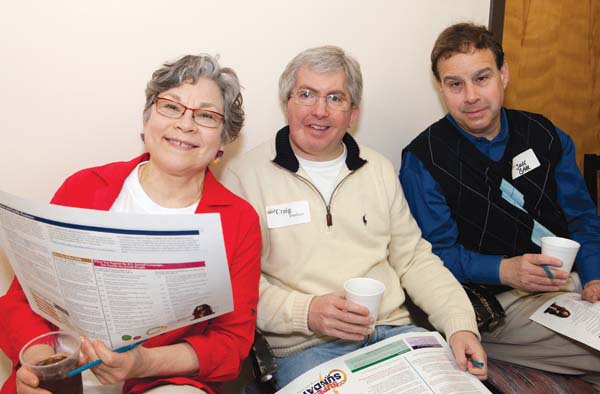 [by Shiela Steinman Wallace]
On March 13, the Jewish community answered the call to "Spring into Action" for Super Sunday as dozens of volunteers called donors for their pledges to the Jewish Community of Louisville's 2011 Annual Campaign. On Super Sunday and during evening telethons two nights that week, volunteers spoke with 525 community members and raised $178,609. This is a 12.3 percent increase over the same gifts last year.
"We really did spring into action," said Super Sunday Chair Barbara Franklin, "and the enthusiasm and the belief in our mission came through loud and clear. … I'm very proud to be associated with this event that's so important to everyone in our community."
Franklin is appreciative of all those who helped make the day a success including those who donated prizes. She noted, "The best donations of all were the time that our volunteers gave, the people who answered the calls generously, and our youth who came in and made calls."
The callers ranged from Kehila middle schoolers through seniors and they came from all parts of the community. The youngest callers conducted a "thank-a-thon," calling donors who had already made their pledges to the 2011 JCL Annual Campaign to thank them for their gifts.
The brightly-decorated board room on the second floor of Shalom Tower was filled with flowers and spring colors. There were lots of prizes for the volunteers and plenty of food and candy.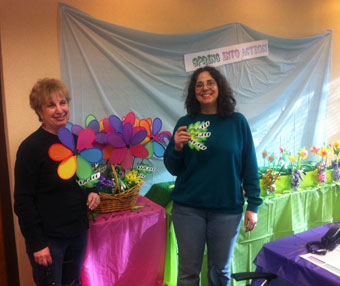 "For years, I've been working as a caller," Franklin said, but this year she got to see what goes on behind the scenes, and she was impressed with what she found at the JCL. "The staff was always up, helpful and knowledgeable. That made my job easier. … I'm delighted to be associated with Super Sunday."
Members of the Super Sunday Committee were: Chair Barbara Franklin, Fran Englander, Deborah Goldberg, Howard Kaplin, Judy Magder, Laurence Nibur and Elizabeth Post.
If volunteers did not reach you on Super Sunday, there is still time to make your pledge. Go online to www.jewishlouisville.org, call 451-8840, or send your pledge or check to Jewish Community of Louisville Annual Campaign, 3630 Dutchmans Ln., Louisville, KY 40205.
The JCL Annual Campaign supports Jewish Family & Career Services, Louisville's Jewish educational agencies, and the JCL, which includes the Jewish Community Center, Hillel, the Jewish Community Relations Council, the Florence Melton Adult Mini-School, YAD, Community and more. It also helps us fulfill our obligation to Jews at-risk in Israel and around the world. For more information, explore our website or call 451-8840.
{gallery}Community/2011/032511/SuperSunday{/gallery}