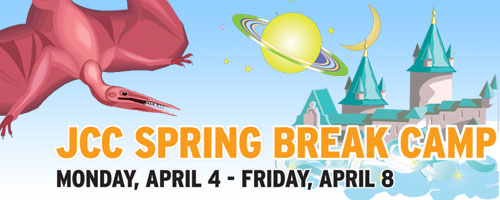 Get ready to blast off with the Jewish Community Center's 2011 Spring Camp. The program includes five individually themed days filled with fun activities for children, 16 months to fifth grade.
From April 4-8, daily themed activities will keep children entertained and learning. Campers will travel back to "Prehistoric Times" and then blast off to "Outer Space" before splashing down "Under the Sea."
They will ride off into the sunset in the "Wild Wild West" and out to fantasyland for a "Magical Adventure."
Daily activities include arts and crafts, sports, cooking and swimming for kindergarten-fifth graders. All campers will have fun building Lego models with Bricks 4 Kidz. In addition, a field trip to look at fossils at The Falls of the Ohio for K-5 campers will enhance the experience.
"Spring Camp gives kids a chance to make new friends they would not normally meet in school and lets them participate in activities they would not normally be able to do," says Camp Director Julie Hollander, "we really try to make learning fun."
Campers can sign up for one day or all five.  Preschool camp, for ages 16 months-4 years, runs from 9 a.m.-1 p.m. with extensions available until 3 p.m. or 6 p.m. Camp for children in K-5 runs from 9 a.m.-3 p.m. Extended care is available starting at 7:30 a.m. and ending at 6 p.m. every day.  Snacks will be provided, but don't forget your lunch.
For more information about the program, contact Julie Hollander at jhollander@jewishlouisville.org or call 502-238-2708.  Registration forms, including costs and options, are available online by clicking here.