[by Adit Herscovic]
Oh so… Jewlicious
On February 25-27 the Jewlicious Festival 7.0 at the Alpert Jewish Community Center, in Long Beach CA, with hundreds of Jewish students and other young people participating. Seven Hillel students from Louisville were there, and they were heard!
What is Jewlicious?
When the Jewish community of Louisville invited me to participate in the Jewlicious Festival in Long Beach, I immediately said: sure! I'll be there… But wait… what is the Jewlicious Festival?
I went on the Jewlicious Festival website and in their words: "there's a bunch of different things we do, which is why sometimes we are difficult to define."
Now I was really confused. I figured that since it's a bunch of Jewish students at a festival right on the beach, how bad can it be?
Raining in Sunny California
We landed in Los Angeles on Friday morning, all happy and exited about sunny California, only to see that it was raining there as much as it was raining back in Louisville. There goes our sunny California weekend.
Taking the cab to Long Beach and driving through those famous California's palm trees made me so happy and excited to start this weekend. Not even the rain could keep me down.
After checking in to our hotels we went over to the Jewlicious location at the Alpert Jewish Community Center. We signed in, got our free T-shirts and placed our tiny sticker in a giant world map. (Kentucky is a small place after all.)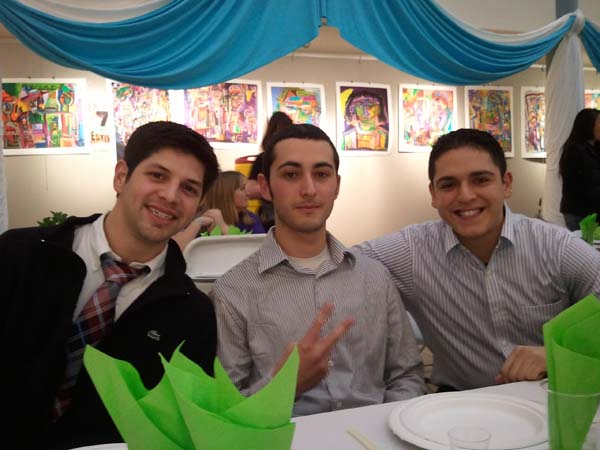 Meeting new people
As the festival continued, we came across many groups of people who came for this festival. Most of them were from California, some from Las Vegas, few from New York and then there was us, the group from Louisville, KY, small but powerful. At the Shabbat dinner we finally had the chance to meet the famous Rabbi Yonah, who as promised, danced on the table during the Kiddush.
After dinner, I finally discovered the true meaning of Jewlicious: the after parties! It was all about socializing and schmoozing with our fellow Jewish friends from across the country.
Talking to all those people, we found many who couldn't hide their surprise that we came all the way across the country from Kentucky. We managed to make so much noise that we made sure that everybody knew who we were and where we were from.
The sessions
Saturday was very eventful, filled with sessions, discussions and, of course, food.
The first discussion I attended was about assimilation. Led by Matthew Mausner, author of The New Jerusalem Talmud, it addressed questions like: how much of non-Jewish culture/ values/ places can be taken on before essential Jewish identity is lost? What makes Jews Jewish? Who decides? What does it matter?
The next discussion was led by rapper Matisyahu's wife, Tahlia Miller, who talked about the challenges of balancing the public and private in life. The session was very interesting, funny and inspiring. Tahlia is a very strong and positive woman who gracefully balances raising two babies, being a good and supporting wife and having a life of her own. Somehow, she manages to do it all with a very positive attitude.
As an Israeli, I greatly anticipated the next session and was delighted to have the honor of meeting and talking with a former Israeli basketball legend, Tal Brody, who is now Israel's Goodwill Ambassador.
Brody, who grew up in New Jersey, had the opportunity to join the NBA right after college. Instead he chose to make aliyah (immigrate to Israel) and join the Israeli basketball team, Maccabi Tel Aviv. Brody achieved the seemingly impossible and led his team to win the European champion league for the first time in 1977.
The State of Israel had a very rough decade during the 70's. In 1972, 11 Israeli athletes were murdered during the Munich Olympic games; in 1973, Israel was crushed both physically and morally during the Yom Kippur War, which was followed by the resignation of its then prime minister, Golda Meir.
With Brody, Maccabi Tel Aviv's historic win put the Israelis back on the map in both sports and politics and lifted the people's spirit up.
Brody told us all about him coming to Israel at the end of the 1960's. He talked about his struggles with the culture, the language, the people and being away from home and of course he told everything with a lot of humor. Listening to Brody on that day made me happy and proud to be Israeli and proud that we have such great people among us.
The day continued with a much anticipated comedy show with the Comedian Moshe Kasher, and brothers, Jason and Randy Sklar. The show was hilarious and we bonded over some great jokes. There was also a concert after dinner that kept everyone up late.
So what is Jewlicious?
I started by asking this question and I think only on the flight back home it finally hit me.
That Saturday, a big gaga tournament (an Israeli game) was held at the JCC. It brought the conference participants together in athletic contest of the survival of the fittest. All the guys from our group participated in that game, and our group won the first five games.
Thinking about that, it occurred to me that this game is a metaphor for this entire festival.
Yes, we might be a small group and yes, we might be coming from the middle of nowhere, but we should always be proud of where we come from and never forget how great we really are. This weekend, we showed Jewlicious how Kentucky rolls!!
Like my fellow Louisville group member Keith Callen said, "We came; we saw; we conquered."
"If there is one place where Jews from across the country can meet up to socialize and schmooze, it is Jewlicious," said Larry Forman. "Every year, Jewlicious is the place for young Jews to recharge their spiritual batteries by being surrounded with Jewish prayer, music, food and dance.
"The bonds that are created at Jewlicious are lifelong and powerful and manifest friendships that even survive the distance between Kentucky and California. This was my fourth consecutive year at Jewlicious, and I plan on keeping that tradition by going again next year."
"Jewlicious was a great experience for me!" said Barry Mordukhaev. "I have met so many different Jewish young adults in relation to reform or conservative and etc. The best part is we were all there for the same thing to learn, socialize and be one together. I had an amazing time and am looking forward for another opportunity at this event next year."
"There is never one way to describe the Jewlicious experience even though I have been going to the festival throughout every year of college," added Jacob Efman. "There is constant change and as Jews, we are affected as a people by the actions we do.
"Jewlicious is a place to listen and reflect upon the past, work on understanding our Jewish identity in the present, and understand our goals as a Jewish people for the future as we seek the betterment of the world," he explained. "The festival inspires and makes me proud of my Jewish identity, while giving me an opportunity to meet new friends and strengthen existing friendships.
"As I leave Jewlicious again this year," Efman concluded, "I think about what more I can do as a Jew and as a friend for my fellow person."
Jewlicious is all about us.
Editor's note: The Louisvillians who attended were Keith Callen, Beau Diaz, Jacob Efman, Larry Forman, Adit Herscovic, Barry Mordukhaev and Joshua White. JCL Teen Director David Siskin accompanied the students.
Hillel is a program of the Jewish Community of Louisville. Tzivia Levin is the Hillel director. The JCL provided subsidies for the students to attend Jewlicious.
{gallery}Community/2011/031111/Jewlicious{/gallery}