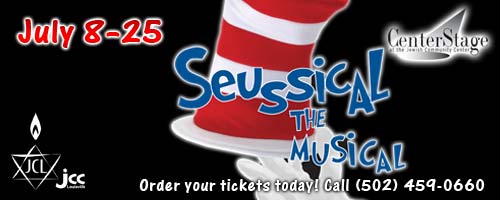 CenterStage returns for their 2010-2011 winning season with the Tony Award winner Seussical, the Musical, July 8-25. One of the most performed shows in America, Seussical, which debuted on Broadway in 2000, is a musical extravaganza that draws its storyline from an amalgamation of many of Dr. Seuss's most famous books.
Boasting a score and libretto by the Tony Award-winning team of Stephen Flaherty and Lynn Ahrens, Seussical, the Musical incorporates characters and scenarios from favorites including The Cat in the Hat, Horton Hears a Who!, Horton Hatches the Egg, Green Eggs and Ham, How the Grinch Stole Christmas and Yertle the Turtle and Other Stories, among others.
Horton the Elephant finds himself faced with a double challenge. Not only must he protect his tiny friend Jojo and all the people of Whoville from a world of naysayers and dangers, but he must guard an abandoned egg, left to his care by the irresponsible Mayzie La Bird.
Although Horton faces ridicule, danger, kidnapping and a trial, only the courageous Gertrude McFuzz, who never loses faith in him, recognizes his kind, powerful heart. Ultimately, the powers of friendship, loyalty, family and community are challenged and emerge triumphant in a story that will make people of all ages laugh and cry.
Tickets for Seussical, the Musical, $18 each, are available at the Jewish Community Center or by calling 459-0660. If not sold out, discounted rush tickets will be available for evening performances on Sundays, Mondays and Thursdays.
Now is your chance to purchase your season tickets for CenterStage's 2010-2011 season. Performances this season also include: 25th Annual Putnam County Spelling Bee, Brigadoon, Man of La Mancha, The Music Man and A Funny Thing Happened on the Way to the Forum. Show and season ticket information is available at www.jewishlouisville.org or by calling Marcy Workman at 238-2739.