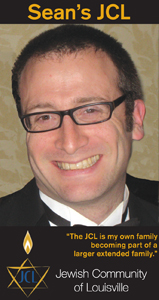 For Sean Wachsman, tikkun olam, the repair of the world, is a way of life that infuses his professional activities and guides his choices as a volunteer.
Professionally, Wachsman manages Brown-Forman's PR for several brands. Currently, he's leading a Gulf Relief program for Southern Comfort to raise up to $250,000 for Plaquemines Parish near New Orleans.
As a volunteer, he is president of the Board of Breaking New Grounds, an organization created by Heine Bros. founders that is "dedicated to economic development through sustainable urban agriculture."
In the Jewish community, he is an active member of the Jewish Community of Louisville's Young Adult Division, and earlier this year chaired YAD's LEADS (Leadership, Education and Development Series), which opens the door to young people who want to learn more about the Jewish community and how they can get involved.
Wachsman is also a member of the Jewish Family & Career Services Board.
Born in Columbus, OH, Wachsman's family moved to Louisville when he was a young child. He grew up playing soccer, went to Ballard High School and was a member of The Temple. Wachsman was one of the first exchange students to go to Ghana and to host a Ghanaian student here.
He studied Journalism at Ohio University and worked in the school's Sports Information Department. He interned with the Cincinnati Reds and IMG's golf division. Following graduation, he worked on Proctor & Gamble brands for the Porter Novelli agency and on Gatorade, Miller Brewing Company, Sony and other brands for the Bruson-Marsteller agency.
His wife, Melanie, is the editor-in-chief for Medical News and Medical News for You, and serves on the AJ Preschool Auxiliary Board.
The Wachsmans have a two-year-old daughter, Hayley, and are members of Congregation Adath Jeshurun.