[by Rivka Golding]
Before the summer began, I decided that not only did I want it to be fun, but I also wanted it to be meaningful. I wanted to do something for someone else. So, while many of my friends went to work as counselors in summer camps, I chose to volunteer at Bet Elazraki, a children's home in Israel.
Run by EMUNAH of America, it is home to almost 250 children ranging in age from infancy through teens. Their parents are unable to care for them for various reasons, including mental illness and drug and alcohol abuse. Sadly, in many of the cases, the children have been abused or abandoned.
I had heard about the program from my cousin, who went the previous year and had an incredible time working with the kids. The experience that I had far surpassed what I was looking for.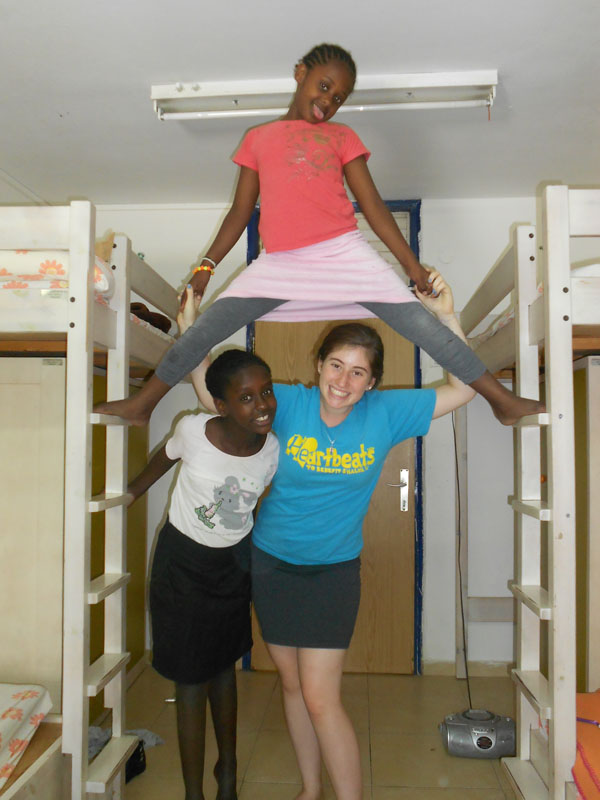 I went with 30 other American teenagers and, when we arrived, the kids were so happy to see us. I will never forget the feeling I had when on the very first night one of the younger girls brought me up into her bedroom to read me a story she had just written for school. As I sat on her bed, I thought to myself, "When was the last time someone took the time to listen to what she had to say?"
Later, I learned that she and her three sisters had all been sexually abused by their father. It was an overwhelming feeling to be able to be there for her and for all of the children in the home who had no one.
That was our objective: to show them that someone cared about them and to bring a smile to their faces. Sometimes that meant just watching a movie with them on the couch, playing a game of soccer outside, or taking them to the beach nearby. Other days we went on trips or had special activities like color war and a Master Chef competition, where each age group was given different ingredients and had to try and make the best dessert. My group actually won the contest and was rewarded with a barbeque!
One of the other main events of the summer was a running marathon that the home organized for the children. The older boys had been training for a long time and were excited about the grand prize: a trip to Florida to run in the ING Miami marathon in January to compete as a member of Team EMUNAH.
Even though the summer has ended, my connection with the kids at Bet Elazraki has not. I am in constant touch with them through e-mail and, of course, Facebook, and I plan on visiting the next time I am in Israel.
Thinking back to the summer, I realize that running in the ING Miami marathon with Team EMUNAH would be the perfect way to give back to the children at the home and to raise awareness about their situation. In order to participate in the marathon, I need to raise $3,000 for the cause. I am hoping that the Louisville Jewish community can help me achieve this goal.
If you would like to sponsor me, and support the Bet Elazraki Children's home, you can make a donation at http://www.emunah.org/marathon/my/Rivkagolding. All proceeds go to Bet Elazraki and even a small donation can dramatically change a child's life there.
Editor's note: Rivka Golding, 16, is in her senior year at Ma'ayanot Yeshiva High School in Teaneck, NJ. She grew up in Louisville, but now boards with her aunt in Manhattan so she can attend a Jewish high school.
Golding is a head of her school's Israel Awareness Committee and helps educate her classmates on what's happening there. She is also on her school's soccer team and is the captain of mock trial.
When she's not in school, Golding likes to run in Central Park, hang out with her friends and sketch fashion designs.
Before she moved away, she attended the Louisville Jewish Day School. Her parents, Joshua and Ayala Golding, are members of Congregation Anshei Sfard. Although she loves living in New York and knows it is an amazing opportunity, she is always happy to come back home and see her friends and family.