On Friday, November 4, The J weight rooms opened their doors to new workouts with a new look. More than 20 brand-new pieces of equipment, including 13 machines and numerous free-weights, replaced older models. Additionally, fresh flooring adds to the aesthetic appeal of the redone weight room. The new LifeFitness equipment has both members and Wellness Department staff excited about the benefits to the community and to individual exercise experiences.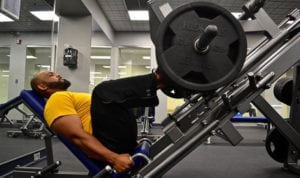 Personal Trainer and Fitness Coach Sylvester Davis says, "The new equipment is like an updated version of what we once had here. They are really good, nice pieces. Very smooth feeling."
Davis explains that the new equipment not only has a wow factor, but the machines are also clean physically and functionally. The new equipment is located in the weight-lifting rooms next to Aerobics Studio. Equipment ranges from a squat rack to a lat pulldown machine. The new machines and free weights offer flexibility in training and ample options for muscle workouts.
"I'm glad I'm able to bring my clients down here every once in a while to train on it," Davis says, "They enjoy the equipment. They feel like they get something out of it."
Rebecca Rickman and her husband, Zach Rickman, are among the members benefiting from the new and improved weight training facility. The couple has been working out at The J for two years, but Rebecca Rickman grew up at The J and was glad to rejoin as an adult.
"My wife is from here originally, and her family were members here," Zach Rickman says. "So we came here to check it out. It had everything we wanted. We like to keep things simple, but the fact that you have the sauna, the steam room all that kind of stuff is just like added perks. Kind of a no-brainer. And the people are great."
For both Rickmans, the new equipment is also a big perk.
"The first day that they moved everything in I did my normal workout, but then I just went around to each machine," Zach Rickman says. "I was like, 'I got to try each one and just kind of see how it feels,' and it's great."
Rebecca Rickman shares her husband's sentiment.
"I think it's awesome," Rebecca Rickman says. "I think, being new equipment, it is going to make me change my routine a little bit, which, you know, kind of brings some life back into your exercises."
Rebecca Rickman explains that the new equipment promotes a community atmosphere in the gym.
"People share their experiences with equipment and tell you to try something a different way," says Rebecca Rickman adding that her husband has made several new friends at the gym.
Zach Rickman thinks The J weight room is a good environment for both beginners and experts.
"In some gyms there might be like some intimidation factor and feeling like you don't know where to jump in, but [at The J] there is something for everybody which is nice," he says.
According to Davis, beginners in weight training are surrounded by support. Each new machine is labeled with a quick-response, or QR code. A QR code is a machine-readable code comprised of white and black squares. Free cellphone applications to read QR codes are readily available. When members scan this image into a QR code reader, an equipment-specific instructional video is immediately pulled up online. Additionally, each machine is equipped with a how-to-use diagram.
Davis says the new LifeFitness machines are the user-friendliest pieces of weight-lifting equipment he has seen. However, if members are confused about how to use the new machines or free weights, personal trainers and fitness coaches, such as Davis, are available to lend a hand.
Identical twins Erica and Meredith Willis have been exercising at The J for five years. The sisters say they appreciate the support of the gym staff and the opportunity to workout on new equipment. Erica Willis, a nursing student at Bellarmine University, says she loves the new atmosphere and appearance of the weight room.
"We just look forward to making new gains with the new equipment," Erica Willis says. "Hopefully we can reach new goals on these machines."
Meredith Willis, an exercise science major at Bellarmine, initially expressed skepticism about having new equipment because she was accustomed to the old machines. However, now that the new machines and free weights have arrived she is very pleased.
"I hope people will come try it out and see for themselves what the JCC has to offer," says Meredith Willis.