Since the first successful assassination of a U.S. President, John Wilkes Booth in 1865 (much earlier, Andrew Jackson was in the sights of Richard Lawrence, but both of his guns misfired), there have been numerous attempts – both successful and unsuccessful – on the lives of American presidents.
Stephen Sondheim's musical, Assassins, is currently playing at CenterStage, directed by Artistic Director John R. Leffert. Yes, I said a musical about the murder and attempted murder of U.S. presidents. From the first, then, we know that this is a satire.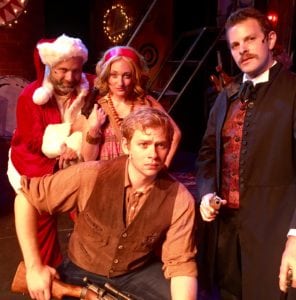 Sondheim and, by proxy, Leffert, take these murders – successful and bungled – fracture and then reassemble these events into something more and less than documentary history. Assassins is a comedic satire played broadly, a blunt instrument reconfiguring the American Dream.
The American Dream says that any boy (and recently any girl) can be anything they want to be in this vast land of opportunity called the United States of America. Assassins takes fragments of information about key killers which include John Wilkes Booth, Charles J. Guiteau, Leon Czolgosz, Giuseppe Zangara, Lee Harvey Oswald, Samuel Byck, Lynette "Squeaky" Fromme; Sara Jane Moore and John Hinckley, Jr and weaves them into a sad tale of a reverse American Dream.
Sondheim takes the entire first act to present the cast of characters in kaleidoscopic form. He then spends the second act fleshing out his characters.
The pioneer killer, John Wilkes Booth, Lincoln's assassin, played fiercely by Jordan Price, is shown as role model to his successors down through time. Near the end of the play, among the boxes on the sixth floor of the Texas Book Depository in Dallas, Booth, along with the rest of the killer crew talk Oswald into killing President John F. Kennedy.
Price is compelling as he presents murder as fulfilling the American Dream. The other villains are generally portrayed as pathetic losers trying to justify their existence by killing a president.
Particularly notable are Samuel Byck, played by Jason Cooper. Byck is manic and disturbingly amusing as he records a tape to "Lenny" Bernstein while dressed in a Santa suit. Later, he tries to crash a commercial jetliner into Richard Nixon.
Also of note are Lynette "Squeaky" Fromme, played by Lauren McCombs, and Sara Jane Moore, played by Jennifer Poliskie, who are presented as a pitiful vaudeville act which is clueless, inept and sinister all at the same time as they try to assassinate Gerald Ford.
In the course of the evening, there are several times when guns are pointed at the audience. This seems to indicate that in current context things have not changed at all as far as violence is concerned.
This is a musical only in the barest sense of the word. The songs, for the most part, are pedestrian, written in broad form to outline both the absurdity and the sinister quality of violence in a world on the edge of madness in the tradition of Stanley Kramer's movie Dr. Strangelove or How I Stopped Worrying and Learned to Love the Bomb. In that classic movie, actor Slim Pickens rides a bomb to the earth in cowboy style that will lead to the destruction of the world . Assassins makes the same point by pointing guns at the audience and singing its way to perdition.
Assassins is playing through November 13. Get your tickets while you can. They're going fast. Next: Funny Girl, January 26-February 12, 2017.