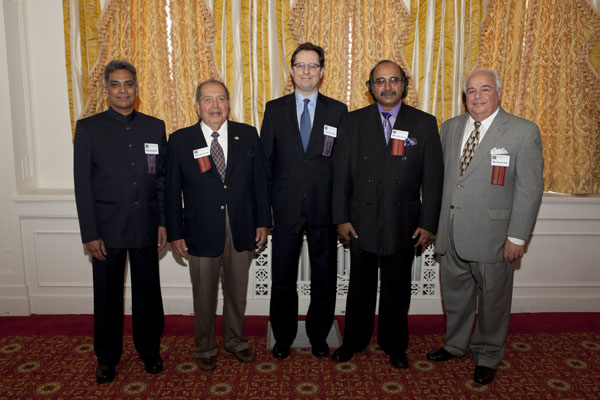 [by Shiela Steinman Wallace]
It has become an elegant, annual tradition in Louisville for Jewish Family & Career Services to honor new or first-generation immigrants and refugees who are making significant contributions in their professions and in our community. This year's MOSAIC Awards, held Thursday, May 19, at the Henry Clay continued that tradition.
More than 300 people filled the room to honor Paul Gerrard, Suhas Kulkarni, Miguel Lagunas, Dr. Saleem Seyal and Leon Wahba.
WLKY-TV's Rick Van Hoose served as master of ceremonies for the evening and Rabbi Joe Rooks Rapport of The Temple offered the invocation. Bill Samuels Jr., the MOSAIC Awards honorary chair and Judy Freundlich Tiell, JFCS' executive director, welcomed the crowd.
Mayor Greg Fischer helped set the tone for the evening, noting that his wife, Alex Gerassimides, would not be here if her family had not come from Greece. He said he truly appreciates what immigrants bring to our community and wants to be sure Louisville continues to benefit from them.


To accomplish that goal, he established the Office for Globalization, and one of the evening's honorees, Suhas Kulkarni, served as its first director, agreeing to do the job for just $1 a year. Fischer sees the growth of the international population as key to the growth of the city. Louisville welcomes the immigrants for the fresh thoughts they bring and their strong work ethic. The city, he says embraces and celebrates diversity.
In addition to the MOSAIC Awards, The Jeff and Phyllis Osbourn Scholarship is presented annually at the event.
This year, Dr. Gerald Temes, vice president of the Jewish Hospital & St. Mary's Foundation presented the scholarship to Sunita Gurung, an immigrant from Nepal. Gurung settled in West Virginia when she first came to this country, but came to Louisville to pursue her dream of becoming a nurse. She mastered English and earned her associate's degree from Jefferson Community and Technical College. Today, she is pursuing her nursing degree at Spalding and working three jobs to achieve her goal. The scholarship will ease her burden a bit.
Each of the MOSAIC Award winners was then showcased and presented with his award. Gerrard, from Great Britain is director of Corporate Affairs for Humana and chairman of its Corporate Social Responsibility Council. Kulkarni, from India, is president of Omnisys. Lagunas, from Mexico, is a retired electrical engineer. Dr. Seyal, from Pakistan, is president of River Cities Cardiology. And Leon Wahba is a retired international banker.
All of them also have significant achievements in their fields and extensive volunteer service to the community.
Full profiles of each were printed in earlier editions of Community, which can be found by clicking Leon Wahba, who was born in Egypt and is a retired international banker and volunteer leader with the Jewish Community of Louisville; Paul Gerrard, originally from Great Britain, is director of corporate affairs and chairman of Humana's Corporate Social Responsibility Council; Suhas Kulkarni, from India, is founder and CEO of Olmnisys, chairman of the Indian Professional Council of Kentucky and board president of Crane House; Miguel Lagunas, from Mexico, is a retired electrical engineer and founding member/volunteer leader of many Hispanic/Latino community organizations; and Saleem Seyal, M.D., of Pakistani descent, is an associate clinical professor of medicine at the University of Louisville School of Medicine, an interventional cardiologist and senior partner at River Cities Cardiology and medical director of preventive cardiology at Clark Memorial Hospital.
The 2011 MOSAIC Awards were created by Mark Whitley, a master craftsman who uses wood to create art. While they are similar to each other, each of the five awards is unique.
The evening also gave JFCS the opportunity to showcase the work they do with immigrants to the entire community. The agency was originally founded over a century ago to help Jewish immigrants arriving in Louisville establish themselves in the community. Today, while their mission has expanded, they continue to help newcomers from around the globe become productive citizens in our community.
The MOSAIC Awards title sponsors were Jewish Hospital HealthCare Services and WLKY32. The MOSAIC sponsors were Maker's Mark and PharMerica. The Patron Sponsors were Almost Family, Appriss, Brown-Forman, Heaven Hill Distilleries, PNC Bank and Bonnie Bizer.
The table sponsors were Ronald and Judy Borinstein, Clark Memorial Hospital, Doe Anderson, Fifth Third Bank, Greater Louisville Inc., Humana, IVS LLC, Jewish Community of Louisville, LG&E, Papa John's International, Peritus, the Louis T.Roth Family Foundation, Northwestern Mutual, Stephen and Robin Stratton, Bob and Judy Tiell, the University of Louisville and Leon and Helen Wahba.
Judy Borinstein was the event chair person, and MOSAIC Awards Committee members were Mark Ament, Beverly Bromley, Jeani Bryant, Carol Butler, Mary Cleary, Sunny Dronawat, Judy Freundlich-Tiell, Debbie Friedman, Sandi Friedson, Jan Glaubinger, Barbara Goldberg, Sharon Goodman, Michael Iacovazzi-Pau, Khalid Kahloon, Laura Klein, Jay Klempner, Melissa Mershon, Djenita Pasic, Claudia Peralta-Mudd, Marsha Roth, Beth Salamon, Judy Shapira, Robin Stratton, Diane Tobin and Geoff Verderosa.
{gallery}Community/2011/060311/MosaicAwards{/gallery}