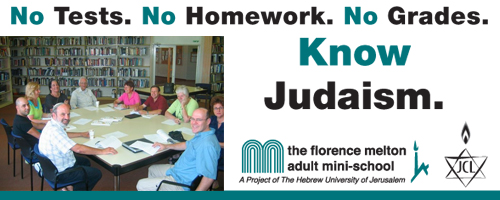 Louisville's Florence Melton Adult Mini-School has some exciting announcements to make.
Director Matt Goldberg said, we are offering two very interesting Advanced Scholar courses for Melton alums. Each will run for 10 weeks at Shalom Tower. Tuition fee is $200 for each course.
The first course, Adam to Abraham: The First 20 Generations, will be held on Tuesdays from 6:45-7:45, beginning March 8. It involves universal tales beginning with creation, the tales of Abraham and Sarah and the beginnings of the Jewish people. Teacher Cantor David will lead discussions on family and faith, honor and dishonor, passion and power as the class explores our people and ourselves.
The second course, Beyond Borders: The History of the Arab-Israeli Conflict, will be held on Wednesdays from 7-8 p.m., beginning March 2. The class provides students with a strong, text-based historical overview from the late 19th century through today. Students will grapple with issues of religion, culture, history, politics, economics, identity and survival as they develop new tools for understanding and critiquing texts and events as the conflict continues to unfold.
Goldberg also announced that a Louisville Melton Alumni Association is being formed to help sustain the school. While a Covenant Foundation Grant helps with funding, an additional $10,000 in alumni dues is needed to ensure the future of the school. Local membership dues begin at $85 per year; contributing memberships start at $180. Various levels of membership provide commensurate benefits.
Contact JCL Goldberg at 618-5321 or e-mail mgoldberg@jewishlouisville.org for more information about classes and membership opportunities.