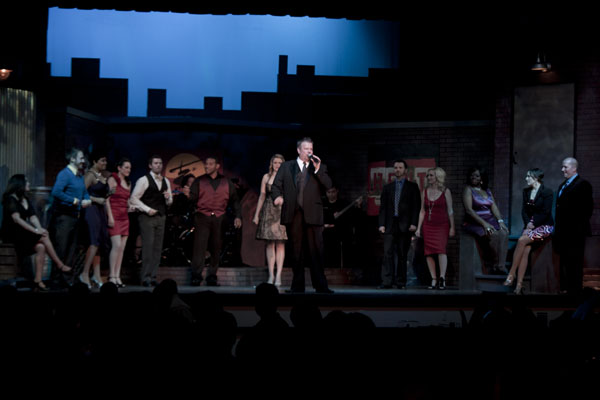 [by Ben Goldenberg]
A smashing success, Light Up CenterStage raised a record amount, more than $33,652, for the Jewish Community Center's resident theater program at its gala on Saturday, December 3. This year, the proceeds from Light Up will provide seed money for CenterStage Acting Out, a professional touring children's theater troupe whose mission it is to bring relevant, educational theater to students in schools around Louisville.
"It was an amazing night. We had a record, sold-out crowd," says CenterStage Chairwoman, Sarah Harlan. "We made more money than we ever have on the auction. Everyone kept telling me this was the best Light Up ever!"
The seventh annual Light Up CenterStage started in November with an online auction. During the big night, guests nibbled on desserts and sipped cocktails while bidding on more than 100 silent auction items. The evening also included an original two-act Broadway Review with a live auction during the intermission. Live auction items included two walk-on roles in upcoming CenterStage productions, a diamond ring, and a Tony party with CenterStage Artistic Director John Leffert.
The highlight of the evening was the Your Ticket to Broadway raffle for a pair of round-trip airline tickets to New York City, two nights in the luxurious Mandarin Oriental Suites, $500 spending money and a $100 gift certificate to the vibrant and colorful French/Mediterranean restaurant Marseille NYC.
Light Up CenterStage would not be possible without the generous help of the evening's sponsors:  Highland Cleaners, PrintWorx, Hilliard Lyons – Greg & Melinda Vincenti, Eventualities, Cherokee Coins & Jewelry – Steve Kommor, Gallatin Steel Company – Cathy Hanley, Heaven Hill Distilleries, and Magnolia Photo Booth Co.
The CenterStage Board includes Chair Candy Pierce, Light Up CenterStage Chair Sarah Harlan, Sara Abner, Jon Adams, Angie Aronoff, Dona Boone, Jan Bowling, Chris Bryant, Kristy Calman, Ellie Catlett, Jennifer Diamond, Carol Dines, Kelly Dodd, Dr. Gene Dorf, Karen Duff, Virginia Evans, Monty Fields, Sandy Friedson, Dr. Kim Goldman, Laura Hoke, Jacob Isaac, Barbara Myerson Katz, Mandy Kramer, Casey Leek, Jeremy Moon, Lauren Morelli, Sam Pilotte, Jordan Price, Christy Shircliff, Jane Schuster, Matt Schuster, Jamie Tobelmann, Larry Singer, Bernard Sweet and Jason Tumulty.
Acting Out's first offering this spring will be the classic children's story, "Alexander and the Terrible, Horrible, No Good, Very Bad Day". In this delightful adaptation of her popular book, Judith Viorst sets Alexander's rather trying life to music and brings to the stage one of America's feistiest characters.
{gallery}Community/2011/122311/LightUpCenterStage{/gallery}