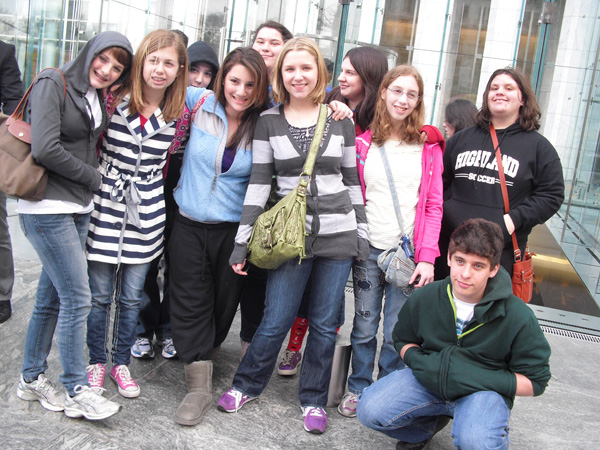 If your child is going into 8th grade next year, please consider the Louisville Hebrew School trip to New York. I had the great pleasure of being one of the chaperones on Rabbi Stanley Miles' trip to tour Jewish New York. We had the best time!
We left Louisville early Sunday morning, April 3rd, and returned Thursday evening, April 7th. I don't think we stopped moving, learning or having fun the entire time we were there.
We slept a little, and we made sure we got in some shopping time. We saw three Broadway shows, Spiderman, Wonderland and How to Succeed in Business with Daniel Radcliff. We had a lot of delicious kosher deli food.
We rode the subways and the buses to get around. That was unusual!  We took a boat around the Statue of Liberty and toured Ellis Island. We took in sights that we did not know existed such as the Tenement Museum and the oldest congregation in North America, Sherith Israel.  We went to a small Holocaust museum and said Kaddish at Ground Zero.
We did other things, too, such as visit the Empire State Building and the largest synagogue in the world, Temple Emmanuel. This allowed the kids to walk on 5th Avenue. They really had the opportunity to see all the personalities of Manhattan.
It was a moving and enriching time. The kids were exposed to so much. It is something that united them as Jewish teens from Louisville, Kentucky.
They will always share the memories of that trip. It brought them together as a group. For most of them it was their first trip to the Big Apple.
It is a special and fun time that we would not miss even at its most stressful moments. New York can be kind of crazy! As one of the chaperones I can say that I would go back again in a "New York Minute"! I hope to do so 2014 with our sons, Isaac and Levi.
An eighth grader must be in good standing at Kehilah in order to participate in this valuable trip, so definitely check it out!
Ask me or Sandy or Barry Stoler if you want to know more! We will tell you what a meaningful time it is for the kids and for the adults who go.
Stephi Wolff
Editor's note: Barry Stoler submitted a very similar letter to Community.