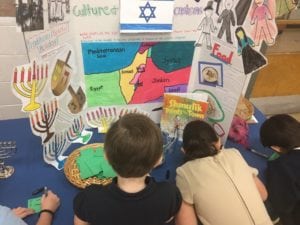 A Louisville mom who decided to erect a replica of the Western Wall for her son's grade school multicultural festival got some sobering responses to the display.
Julie Kling, who went on the Jewish Women Renaissance Project's MOMentum Israel trip for young mothers last November, said the experience "really inspired me to be an advocate for Israel."
So after she returned home, she joined the committee at St. Matthews Elementary that was planning the second annual multicultural festival at the school, her intent being to include an Israel exhibit.
"Lucas (her son) was starting school and had no kids [in his class] who were Jewish," Kling said. "It made the Chanukah/ Christmas season just a little challenging for him."
She hoped an exhibit for Israel, one of eight countries represented at the festi- val, would serve as a toolkit for teachers, parents and students alike.
"We realized his school did not have many venues to communicate diversity, with exception of this multicultural fair," she said.
At the suggestion of YAD Director Benji Berlow, Kling built a foam board replica of the wall and had the kids write notes and wishes that were attached the makeshift kotel, following the custom of worshippers at the real wall in Jerusalem.
She was surprised by the messages children wrote. Some wished for fun things – ponies, dogs, iPhones.
Others, though, went much deeper.
"A lot of them were about their wishes for themselves or their families to have a happy life, peace in the world, to stop guns and shooting and dying," Kling said.
"Another groups of kids shared some heartbreaking wishes – 'I wish I could see my dad every day,' 'I wish I was someone people could love,'" she continued. "I was sharing one [wish] with the special ed. teacher, and she was bawling; she could not stop crying about it."
The kids' messages will be taken to Israel this November by the next group of MOMentum women for placement in the real Western Wall.
"Some messages showed the struggles of children – sharing their wounds, in a way – we also had the parents do it," Kling said. "It was very sweet…. It's really a gift to the JWRP women that they will have the opportunity to bring these wishes to the wall."
The Israel exhibit wasn't all about the Western Wall. Kling conducted an experiment to show children why things float in the Dead Sea. She filled one container with tap water, another with salt water, then dropped an egg in both. Of course, the egg sank to the bottom of the tap water container, but floated in the salt water.
Kling also brought in matzah since the April 12 fair fell around Passover.
Generally, though, "it's really about the culture [of a country]," she said. "I didn't want to make it too religious, it IS a public school."
The other countries represented at the festival were Japan, Tanzania, Georgia, China, Bosnia, Cambodia and Canada.
Kling hopes the exhibit could be picked up on by other area schools.
"One thing we want to do is go to the Diversity Council of the Jefferson County Public Schools and see if this is a tool that might be applied to other schools to tell the story of Israel," she said.