A conversation works two ways: you hear and you are heard. The Jewish Community of Louisville knows that the best way to serve the community is to engage in conversations with community members. And the best way to open the door for these vital conversations is to offer opportunities at a variety of times and locations.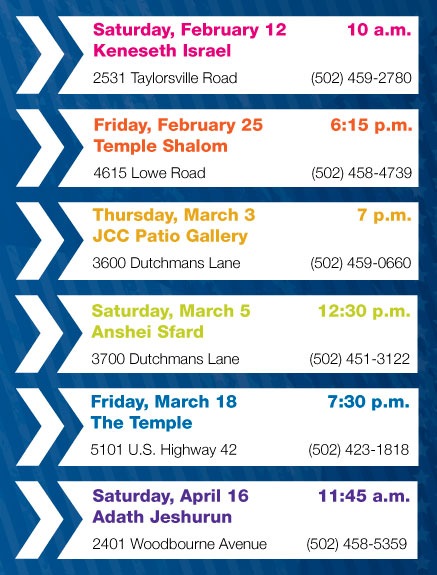 The first six conversations are scheduled, most in conjunction with shabbat services, and you are invited to participate. Come talk with Stu Silberman, the JCL's president and CEO. He'll update you on the progress the JCL has made since the merger of the Jewish Community Center and the Jewish Community Federation, and he'll share his vision going forward.
Just as importantly, Stu will be there to listen. He wants to hear your vision, your ideas, your needs and your concerns.
So, b'ruchim haba-im, welcome one and all. We look forward to talking with you at the JCL's community conversations at a congregation or agency near you!
Current Community Conversations will be held at:
Sat., Feb. 12, 10 a.m., at Keneseth Israel
Fri., Feb. 25, 6:15 p.m. at Temple Shalom
Thurs., Mar. 3, 7 p.m. in the Patio Gallery at the Jewish Community Center
Sat., Mar. 5, 12:30 p.m. at Anshei Sfard
Fri., Mar. 18, 7:30 p.m. at The Temple
Sat., Apr. 16, 11:45 a.m., at Adath Jeshurun
Can't make a conversation?  Join us online and be heard!  Click here to submit your ideas, visions or questions about the future.