(see full photo gallery below)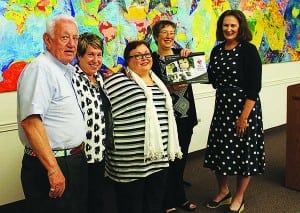 As a social service agency that serves more than 9,000 people across Louisville, Jewish Family & Career Services has a lot to be proud of and to celebrate. That is just what the agency did at its 107th Annual Meeting, held Tuesday, May 26, at the Louis and Lee Roth Family Center.
One of JFCS' most visible programs is its food pantry. This year, Dare to Care recognized JFCS as the Closed Network of the Year. A closed-network food pantry is one that serves only its own clients.
JFCS President Debbie Friedman said that Dare to Care "is an amazing partner" that supplements the agency's food collection efforts with additional food as well as fresh fruits and vegetables. They also monitor the JFCS Food Pantry to ensure it maintains high standards.
Janet and Sonny Meyer, she continued, created a buzz around the food pantry. "Through their efforts," she said, "we now have two friend- and fund-raising events: Pizza for the Pantry each August and Bagels and Bingo in February."
Today, volunteers from every congregation bring food on a weekly basis. Friedman specifically recognized Carole Goldberg, Linda Goodman and Melanie Fadel who manage the pantry, and Kim Toebbe, the volunteer coordinator who also serves as the liaison to Dare to Care.
Sonny and Janet Meyer formally presented the Dare to Care Award to JFCS, and Executive Director Judy Freundlich Tiell promised that it would be displayed near the food pantry.
Beautiful new signs that highlight the services JFCS provides, pay tribute to Lee and Louis Roth and incorporate the agency's logo have been installed outside the building, Friedman said. The Roths' commitment to tzedakah has continued through the generations to Bruce and Marcia Roth, David and Marsha Roth, and a total of 59 descendants.
"They were instrumental in getting this building built for us, mortgage free," she said, and JFCS' first freestanding home is a wonderful space for the agency. The Roths approached JFCS and asked how they could help further promote the agency and its work and it was decided that the signs would be the best thing to do. As a token of appreciation, JFCS presented the Roths with a leaf from the agency's logo.
Every year, JFCS highlights the work they do by bring clients to tell their stories. Introduced by Mary Cleary and Kristina Mielke, Nicole Pettey, a young mother who works as a nurse, is now looking forward to closing on a home, talked about her experience with Nve$t in Yourself, and Severin Barumunungu, an immigrant from Burundi told about how JFCS helped him once he arrived in Louisville.
Pettey, who works for Norton Healthcare and Trilogy Health Services for Employees, said, "I never thought by opening a savings account a year ago I would be able to buy a home." Classes in the Nve$t program helped her "prepare for my new journey" through classes at night that taught money management and helped her raise her credit score. She and her daughter are looking forward to having their own home, and she is so happy with the program that she is telling her coworkers about it. She expressed her gratitude to JFCS.
Louisville receives about 1,000 refugees a year, and JFCS helps many of them become self-supporting.
Barumunungu was a chemistry teacher in Burundi. He also helped erect schools and served as an elected member of Parliament as well as vice government of his province. He survived poverty and corruptions, conflicts between the Hutu and the Tutsi and two genocides.
He left when the country's president asked Barumunumgu to join his party and the latter refused. The president threatened to kill him, and he decided staying in Burundi was too dangerous. Last April, he recounted, there was a coup, and his nephew was kidnapped, tortured and poisoned for several hours.
Barumunungu, who has been in Louisville 2-1/2 years, fled to Kenya, and the CIA brought him to Louisville. In 2012, he petitioned to have his family join him, and they arrived a year ago.
Last September, Barumunungu came to JFCS to see how he could return to teaching in this country. Today, he is working as a substitute for Jefferson County Public Schools. He sees a need for bilingual teachers and has a goal of becoming a chemistry teacher. "Thanks to JFCS for helping me get back to my career and helping me to grow," he said.
Mielke said to continue her success in working with refugees and immigrants like Barumunungu she relies on volunteers. He is one of 200 she works with, so she needs more volunteers.
This year, there were seven programs nominated for the Mary Gunther Memorial Award for the best new JFCS program of the year. They were Pizza for the Pantry, Career Planning Services through the Career Academy, Jobs and Enterprise Center, Grandparents Raising Grandchildren Support Services, Career-Leadership-Engrepreneurial Strengths Finder (CLESF), Long Term Unemployment Series of Initiatives (now KCCGO – Kentucky Career Center Get Opportunity), and Klein Older Adults Caregiver Support.
The winning program, KCCGO, helps the long-term unemployed – those out of work for six months or longer – with job search methods and behavioral health. The program has proven successful with 66 percent of participants finding acceptable employment within three months of completing the workshop.
Sean Wachsman presented the award to Bob Tiell, the director of Career and Workforce Development. The award, named after Mary Gunther, who was a JFCS Career Services secretary from 1959 until her retirement in 1992 and died in 1993, includes a cash award of $600.
Metro United Way, one of JFCS' major funders has undertaken some new initiatives, and for one of them, MUW teamed up with Neighborhood House and JFCS on a program that focuses on financial empowerment, jobs, career, employment and self-employment. At a recent MUW luncheon, Jacqueline Beavin, a participant in the program, spoke about how grateful she was to JFCS for its help with career planning. With its help, she was able to start a hair salon.
Andrea Brown, the JFCS staffer most responsible for this program, was unable to attend that luncheon, so Bob Tiell presented the certificate from MUW to her at JFCS' Annual Meeting.
A painting Ruth Nelson's family brought with them when they escaped from the Nazis will be hung in JFCS' Roth Family Center in her memory.
In her president's report, Debbie Friedman spoke with pride of a number of successful JFCS programs. The Senior PALS program continues to thrive and is now the service of choice for several hospitals and medical groups, and, thanks to a grant from JHFE, the Joy!Ride now offers a single number seniors can call when they need transportation for events.
Other highlights include the start of JFCS's community development financial institution, LHOME, is up and running; the program for the long-term unemployed, run in conjunction with Kentuckiana Works is having great outcomes; and the agency continues to provide food and emergency assistance to people in the community. JFCS is also initiating a supportive employment program for people with disabilities.
JFCS' Community Advisory Council, chaired by Jay Klempner, is made up of about 25 members of the community representing a wide variety of businesses and interests. They are active advocates for JFCS and have been successful in getting word out about the agency's work.
JFCS has a number of successful events throughout the year, including the 10th anniversary MOSAIC Awards and business showcase, co-chaired by Diane Tobin. The JFCS Food Pantry is a source of pride. Friedman encouraged everyone to support it by making donations of food and going to Pizza for the Pantry, which will be on August 16. The Bagels, Bingo and Breakfast event was also a successful event for the pantry.
Friedman also expressed appreciation for the deepening relationship JFCS enjoys with the Jewish Heritage Fund for Excellence. JHFE grants have enabled JFCS to focus on unemployed and underemployed young adults and is creating a business advisory council.
In addition, JFCS has improved its physical plant, adding additional parking and upgrading building doors to allow for easier access for seniors and those with disabilities.
With over 400 volunteers in the past year, Friedman says the agency was the beneficiary of almost 24,000 hours of service. The volunteers, Board and staff all work hard enabling the agency to provide much more than it would be able to with staff alone.
Executive Director Judy Freundlich Tiell reported that JFCS served almost 9,000 people from throughout the region. " We continue to see more people who have fewer resources and need more services," she said. "But the level of creativity, commitment and passion exhibited by our Board and staff and volunteers to meet those challenges is unparalleled."
Tiell had high words of praise for outgoing president Debbie Friedman, whom she said, "spent an enormous amount of time and energy to learn and understand the kind of work that we do." As a result, she is the agency's best marketer, always trying to connect people to JFCS' services.
Tiell observed that Friedman is also an "excellent listener," with the political acumen to "turn concerns and problems into opportunities."
She thanked Friedman for her service, welcomed incoming president Stephanie Mutchnick and recognized staff for their service. Therapist Connie Austin and Finance Department member Jiwan Bista have been with the agency for five years; Director of Marketing and Development Beverly Bromley has been there 10 years; and Anita Jarboe, 15 years.
Mark Ament, chair of JFCS' Nominating Committee conducted elections for new board members and officers.
Judge Joan Byer, Jordan Green and Julie Kling were elected to three-year terms on the Board, and David Cooper was reelected to a three-year term. Stephanie Mutchnick was elected president; Peter Resnik, vice president; Marc Charnas, treasurer; and Debbie Friedman, immediate past president. Mark Ament, Jay Klempner and Marty Margulis were elected at-large Executive Committee members.
Ament acknowledged Doug Roemer, Bill Ryan and Beth Salamon, who completed their terms and left the Board. He also paid tribute to long-time JFCS Board member Sandy Friedson, who passed away this year.
In addition to Ament, members of the Nominating Committee were Ed Cohen, Debbie Friedman, Jay Klempner, Marty Margulis, Stephanie Mutchnick, Peter Resnik and Doug Sharps.