When Jewish Community Center of Louisville Assistant Camp Director Kari Semel thinks back on her days as a summer camper, she can recall an abundance of fond memories.
"Camp was, for me, a place where I learned that I could achieve anything I wanted to," Semel said. "It is where I learned about peer support. Camp really shaped both my Jewish and personal identity."
Today, as an assistant camp director, Semel and the rest of the staff create a similarly supportive and exciting environment for campers of all backgrounds at The J.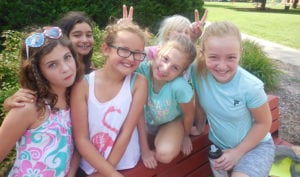 "I think that camp at The J is a really great place for kids to learn what it means to be successful," she said. "Campers are guaranteed to make friends, to have an awesome time and to be supported by highly trained staff."
The J Summer Camp boasts not only a 6-to-1 camper-to-staff ratio, it also offers more than 40 specialty camp options including cooking, video games, Lego, sports, art and theater.
Traditional camps also offer exciting opportunities, including daily swim lessons, field trips, crafts, music, games, drama, dance, archery, nature and overnights.
The J Summer Camp employs several specialists to teach and enrich these various programs. A shaliach, or Israeli emissary, will share Israeli games, songs, culture and language at camp, giving insight into life abroad and widening the horizons of campers.
Mindye Mannel, director of camp, youth and family, and former assistant director of the J Early Childhood Center, is looking forward to her first summer at upper camp.
"This will be an exciting summer to be at camp," she said. "This summer we will be building friendships, developing children's social and emotional competency, utilizing their problem solving skills, strengthening their independence and teamwork. This is a great summer to come to camp."
All campers at The J swim daily, weather permitting.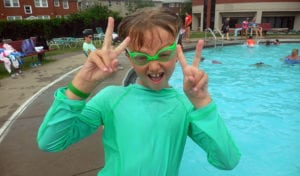 The J Summer Camp is an American Camp Association accredited day camp, one of only a few in the Louisville area. To gain and maintain ACA accreditation, The J Camp undergoes a thorough review of up to 300 standards ranging from staff qualifications and training to emergency management. The ACA collaborates with experts from the American Academy of Pediatrics, the American Red Cross and other youth-serving agencies to assure that current camp practices reflect the most up-to-date, research-based standards in camp operation. Camps and the ACA form a partnership that promotes growth and fun in a safe environment.
The J also offers a Yachad (inclusion) program that integrates children with special needs into the camp program. Yachad, which is funded largely by the National Inclusion Project, ensures that all children can participate, learn new skills, be successful and make friends. Through Yachad, children receive the support needed to succeed, whether that means the staff monitors diabetes or provides a one-on-one advocate to work with an autistic child. Advocates are available to children with special needs at no additional charge to their families.
Complete information about all 2017 J camps is available online at www.jcclouisvillecamp.org For more information about registration, contact Mary Dooley at mdooley@jewishlouisville.org. For more information about camp programming, contact Mary-Kate Smith at msmith@jewishlouisville.org.