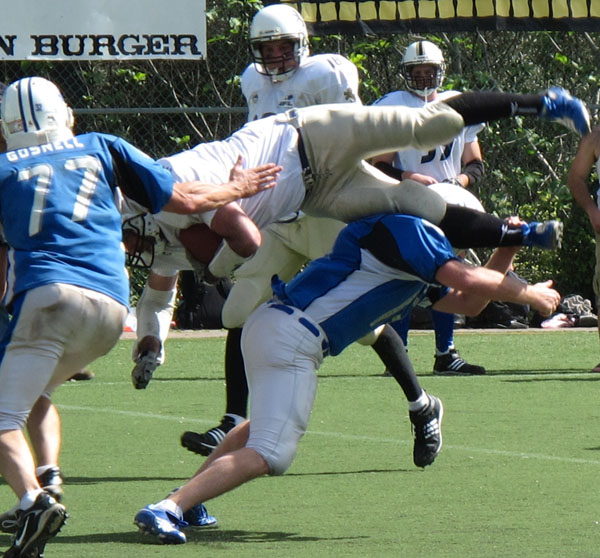 [by Andrew Gershman]
JERUSALEM, November 22, 2012 (JTA) – It's a cold Thursday night in Jerusalem and by the looks of it, you'd think there was a meeting of the United Nations under way. Men are carrying on in Hebrew, English, Arabic, Russian and French, but they're not talking peace. They're here to settle the score – literally.
The cross-section of Jews, Arabs and Christians are here to play American tackle football as part of the Kraft Family Israel Football League. Entering its fifth year, the IFL has more than doubled since its beginning, in 2007, to 10 teams.
The IFL traces its history back more than two decades, to a group of touch football players – mostly American immigrants and post-high schoolers studying in Israel – who established a football league in 1988. Six years later the modest effort would grow into American Football in Israel, a nonprofit organization recognized by Israel's Ministry of Education as the sport's governing body, which today encompasses dozens of men's and women's flag football teams across the country.
With the growth of flag football, a separate group of guys who had been playing tackle football had someplace to call home.
"It was these players who came to our organization, American Football in Israel, to set up a more organized league, which led us down the path to where we are today," said Uriel Sturm, the IFL's commissioner.
The league consists of two teams from Jerusalem, the Kings and the Lions; one from Gush Etzion, the defending champion Judean Rebels; and two from Tel Aviv, the Sabres and the Pioneers. The Beersheva Black Swarm, Haifa Underdogs, Northern Stars, Petach Tikvah Troopers and the Hatikvah Hammers round out the roster. And while the overwhelming majority of players are Israeli citizens, they hail from countries as far afield as Ukraine, France and Barbados.
"I think the IFL needs to be known in every city, and the way to do so is to expand while keeping a good level of play," said Roey Ziv, a league veteran who once played for the Haifa Underdogs and now suits up for the expansion Northern Stars.
The level of play has continued to improve over the league's five-year history. Players range in talent from football newbies to Division I college talent. The latter category includes offensive lineman "Big Mike" Gondelman, a former player at Troy University in Alabama. At 6-foot-9 and 402 pounds, Gondelman is an addiction and crisis counselor in Jerusalem who believes football can be therapeutic.
"There are thousands of studies proving that, as well as personal stories I've seen through my work and in the IFL," Gondelman said.
Jeremy Sable, an offensive lineman/linebacker for the Tel-Aviv/Jaffa Sabres, played a year of football at Cheltenham High School in suburban Philadelphia but had to quit because the games were played on Shabbat. When he moved to Israel following his graduation from the University of Maryland, Sable connected with one of the Sabres players through a fellow Philadelphian.
"When I walked away from high school football, I thought I would never have a chance to play again," Sable said. "Here in Israel, I am able to fulfill my dream of living in the Jewish state, while once again playing the sport I love."
Israeli-born Chen Doron, a wide receiver for the Beersheva Black Swarm, had never played football before the IFL. He took up the sport at age 23.
"I was attracted to tackle football because it's a sport for any given size or speed or weight and so on," Doron said. "I also like football because of the team play that is required, rather than being a one-man game."
As an amateur league, one downside of the IFL is the cost to play. Players must buy their own uniforms and equipment, purchase insurance, and cover the costs of travel to and from games. Ziv says it is the league's biggest problem.
"You can't ask a guy who has never played football before to spend all that money," he said. "Brand-new gear costs approximately 2,000 shekels [about $500], and pants, jerseys, insurance and everything else cost around 1,000 [about $250]."
Even for an experienced player like Gondelman, the financial commitment can take a toll.
"I've spent the last seven months rebuilding the Kings, working some months as much as 40 hours a week just to play ball," he said.
The league also struggles with transitory players. Many players are in Israel for just a year of study. Job offers and military service also get in the way of their consistent attendance. Last year's Most Valuable Player, Alex Swieca of the Judean Rebels, is a walk-on redshirt freshman quarterback this fall at the University of Michigan.
But the constant turnover also creates excitement. The Rebels lost six key players from last year's championship squad but have managed to add some new talent.
"We are embracing the target painted on our back, although that is no different than last year," said Betzalel Friedman, head coach of the Rebels. "I am interested in seeing how all of the teams improved."
For some participants, playing football in Israel is about much more than sports.
"Our team's success comes from the fact that the majority of us really loves and cares for each other," Sable said. "We don't simply block for each other because we want to win, but rather because we won't allow anyone to hit or hurt our friend and teammate.
"The greatest moments of my IFL career has to be prior to the Israel Bowl, in 2010 and in 2011. Nothing beats the emotion I felt standing on the field at Kraft [Stadium in Jerusalem] singing the 'Hatikvah' with my teammates prior to the championship games."