[by Phyllis Shaikun & Shiela Steinman Wallace]
Imagine a world so different from our own where a home with dirt floor, no electricity or running water is the norm and where having enough food to feed many hungry mouths is a cause for happiness. Such is the world to which physicians Jonathan Hodes and Harvey Diamond, their wives, Janet and Sandy, and friends and family found when they visited Kenya with the encouragement of physician Ellen Ballard.
"We were a mixed group and most of us didn't know each other well or at all when we started," said Janet Hodes, "Out of 12 people, there were five physicians, three teens, one medical assistant and several spouses. The teens," she noted, "worked impressively hard."
The group was accompanied by John Willingham, president of the non-profit Hearts for Kenya, which is dedicated to combating poverty and disease in small, agrarian communities in the country's Nyanza province.
Willingham became involved after a trip to the region in 1996, when he spent a month with a missionary friend in Oyugis, a town near Lake Victoria, the poorest district in the country. He returned in 1997 and was advised to take time to understand the real needs of the people, gain their confidence and build relationships. He did this by building structures, and working side-by-side with the locals. While doing this, John quickly saw that the people were unable to grow enough crops to sustain themselves.
Hearts for Kenya developed an agricultural co-op, working with the Kenyan government, providing bulls and plows, as well as hybrid seeds and fertilizer so farmers could plant crops twice a year.
Now there are 125 farmers (mainly women) who are able to feed their families and have enough left over to buy medical and school supplies and clothing for their children. Volunteers also worked with 20 schools to teach the older students about agriculture, and now more than 8,000 youngsters are eating lunches made with the harvested crops.
Hearts for Kenya (H4K) purchased The Amani Center, a run-down structure, with the hopes of renovating it for rentals and providing more residents with jobs. The Amani Center has a 210-student preschool, populated mostly with orphans from the community. H4K has installed a water purification system here, as well as a garden, which helps feed the children, who otherwise might eat only once a day.
Although Willingham's group tried to start a health clinic, they quickly realized that digging a well and constructing beds was not the answer – it simply was beyond their means to supply the medical equipment necessary to provide needed health care services. Instead, they decided to bring as many doctors and nurses to the area as they could – when they could – to treat the children and adults living there. That's when Louisville Jewish community members Janet and Jonathan Hodes and Sandy and Harvey Diamond answered the call.
Janet's daughter, Tahlia, knew their family friend, Ellen Ballard, MD had led a group that visited Oyugis last year and asked her if they would be going back to Kenya this year. Ballard, a physical medicine and rehab physician, had brought medicines with her to use at a clinic. Although some medical care in Kenya is free, most medicines are not.
Ballard, whose office is located across the hall from Harvey Diamond's, had been asking him to travel to Kenya with her. Last summer, he finally agreed. Ballard also recruited her husband, Dennis Neyman, PhD, a resource teacher with JCPS, their youngest daughter, Elizabeth, along with Lana Mandzy, her son, Kyj,  her medical assistant, Nancy Smith, pediatrician Richard Pape, and Jonathan, Janet and Tahlia Hodes.
They quickly learned about Kenya's medical issues. People often have to travel far distances – generally on foot – to get treatment. Per-capita income is about $470 annually, but only about $50 a year in the Nyanza district they were visiting. The average life expectancy is 47, mainly due to HIV, AIDS, malaria and tuberculosis.
"I didn't think I would feel a sense of fulfillment in doing individual work in Africa," Jonathan Hodes declared. "I thought I'd feel like one drop of cream in a huge pot of coffee. What I discovered, however, was that touching even one individual and perhaps helping that person was reward enough."
Hodes recalls meeting Mama Sarah Obama, the President's grandmother, who pointed out the room President Obama slept in. "It occurred to me," he said, "that if an American tourist visiting Oyugis were to contract an illness and not have access to appropriate medical care, that person's future could be destroyed. I learned more about abject poverty in the short time I was there than I learned during extensive travels as a 'poverty tourist' in the past."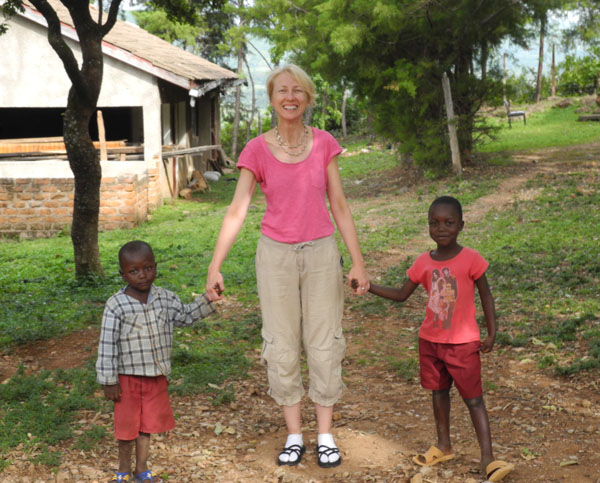 The Diamonds didn't know what to expect. They were pretty much "blown away" and consider it a life-changing experience. They described the people of Oyugis as lovely, happy and gracious, and remembered the children wanting to shake their hands, just to touch them. Their spirit was amazing.
"I still don't have my brain wrapped around it," said Sandy. "It took two weeks to calm down after we got home; it was such a transition that we had trouble adjusting."
The group bought medicine in bulk from the pharmacy each day, and in the evenings repackaged them for use the next day. They held seven clinics, each organized with three stations: an exam area with a doctor at each corner of the room (Harvey Diamond triaged outside); a pharmacy; and a space, managed primarily by the teens, for wound treatment and head cleaning/treatment for scabies and fungus. Nearly 2,000 people were provided medical care by the group.
Jonathan shook his head. "The majority of diseases we treated were infectious diseases that are completely preventable with basic hygiene and sewage treatment, which are not available there. In Amani, where we stayed, there was no running water, but there was electricity … which worked most of the time! The Amani staff made uphill treks to carry five-gallon buckets of water on their heads so we could flush the toilet. Conditions like these result in diseases such as worms, fungus, malaria, tuberculosis, leprosy and river blight – all diseases that can be eradicated with basic aspects of public health."
A local Jewish family business, BFW Inc., (Lynn Cooper & Alan Kirschenbaum) donated a surgical headlight, which they used to debride wounds. When they realized that several of the wounds being treated needed skin grafts, Jonathan rode with the chief of the local Luo tribe two-and-a-half hours to Kisumu, the closest city with a hospital. They met the general surgeon and ended up bartering the headlight for skin grafts on two patients. Bartering is common there and Harvey discovered a new talent!
One thing glaringly apparent in Oyugis is the absence of the middle generation: there are young and old, but not many in their 30's and 40's. The man who manages Amani, Tom Juma, is a typical Kenyan. He had six brothers and sisters – all of whom have died. Tom cares for all of their 36 children along with his own family. It is common for grandparents to care for many grandchildren.
One special Saturday the group  held a clinic at Tom's Seventh Day Adventist Church. After introductions were made, Jonathan sang "Shabbat Shalom" and taught the children the words so they could sing along with him. "It was," says Janet, "a very special Shabbat."
At different points during the trip, each person would become overwhelmed. Janet's turn came at a school with about 400 students who traded their two soccer balls, made of plastic bags wrapped with twine, for two new soccer balls.  "We handed them the new two balls," she recalls, "and they were thrilled! Can you imagine 400 children sharing just two soccer balls with such enormous joy?"
Sandy and several others went to an AIDS support group home one Sunday. Individuals with AIDS are shunned in Kenya, and although the people don't talk about it, AIDS is becoming their second largest killer. The residents prepared a meal for them and talked about schools that have been organized for children whose parents died of AIDS. The home was sparsely decorated and furnished, a few posters on the wall and a dirty tarp for babies. In another place, mothers with AIDS were living with their children and trying to make and grow some things to earn money to support themselves and families.
Hearts for Kenya's focus is agricultural, knowing it has the widest-reaching effects, providing nutrition, food as medication, by allowing farmers to provide for their families and enough extra to sell so they can clothe their children, and provide school supplies and some medications. John Willingham has been at this work for fifteen years. He has developed 125 farmers, with a goal of 300. Hearts for Kenya has helped 20 schools begin  farming programs that enable them to provide school lunch for nearly 8,000 children.
A trip is planned for March to explore the possibility of establishing a Hearts for Kenya medical clinic, and to oversee continuing renovation of the Amani Center.
The Diamonds and Hodes hope to encourage others– farmers, doctors, dentists, optometrists – to visit Oyugis with Hearts for Kenya. While they agree the work is incredibly hard and emotionally exhausting, it is an experience that will resonate for a lifetime, says Janet. "This really opened our eyes to the immensity of global needs. This is certainly tikkun olam."
Tahlia Hodes commented on her lasting impression:  "It is amazing to see how happy people can be with so little."
Hearts for Kenya hopes to lead another medical service trip in August 2012. For more information, contact Janet Hodes, 386-4920, JWHodes@aol.com or John Willingham, 558-8603. Visit www.heartsforkenya.org.