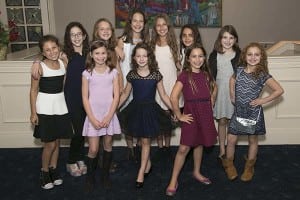 The smiles on all of the girls' faces are a testament to the success of PJ Library and the JCC's Girls Tea and Fashion show held on Sunday, August 30. It was a success, with over 80 members of our community coming together for an enjoyable afternoon of simply being together. The event was held at Standard Club, thanks in part to an agreement with the Jewish Heritage Fund for Excellence which allows the club to be used by the Jewish Community of Louisville for off-site programming.
The children's fashion show was provided by FRESH Boutique 4 Girls located in Westport Village and owned by community members Shelly Breier and Lynn Abramson-Saltzman. The models were Jenna Shapps, Blake Tasman, Isabella Nibur, Kendall Gellar, Sabine Freidman, Audrey Weinberg, Cameron and Hayden Breier, and Elanna Saltzman.
The event was emceed by sixth grader Dylan Breier and seventh grader Elia Saltzman. FRESH set up a pop-up boutique after the fashion show.
Jenna Shapps, who modeled and attended the event with her mother and grandmother, loved the shopping and said, "I liked all the cool clothes."
Even young children enjoyed how the community came together. Nine-year-old Blake Tasman said, "I had such a blast! It was fun doing the fashion show with some of my preschool friends and getting to wear all the cool clothes from FRESH."
Many of the attendees brought gently used dresses that were donated to the National Council Jewish Women's Nearly New Shop.
The large attendance was thanks in large part to committee members Keren Benabou, Anna Feitelson, Claire Geer Felsen, Tracy Geller, Elise Goldstein, Julie Marks, Shannon Rothschild, Melanie Wachsman, Diane Weinberg and Hunter Weinberg.
PJ Library will continue to plan events both at the JCC and around the community in Jewish and secular venues. The next PJ Library event is in conjunction with Shalom Baby. Songs in the Sukkah will be held on Sunday, October 4, at 10 a.m. at the Adath Jeshurun sukkah.
This event will feature Jewish music led by Cantor David Lipp with a PJ Library story told by Rabbi Robert Slosberg. It is open to the entire community.
PJ Library will be travelling to all of the synagogues for events. If you have a child, 8 years old or younger, he or she is welcome to register to receive a free Jewish book or CD each month from PJ Library. Simply register at pjlibrary.org.