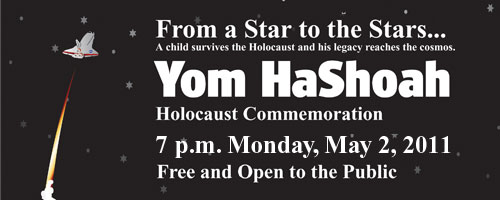 When he was two years old, Henry Fenichel, like all Jews in the Netherlands, was a "star child," forced to wear a yellow star on his chest. "I wore this star with pride," he said, "unaware that it promoted hatred of and discrimination against Jews."
Dr. Fenichel survived the Holocaust. He earned his doctorate in physics and became a respected researcher. In 2006, The Space Shuttle Atlantis carried a small Torah he owned into space toward the stars as a tribute to the Israeli astronaut, Ilan Ramon, who perished on the Space Shuttle Columbia.
On Monday, May 2, Dr. Fenichel will be the keynote speaker at the Jewish Community of Louisville's annual Yom HaShoah Commemoration at 7 p.m. at Temple Shalom. Dr. Fenichel will recount his story including what happened to the "star children," 1-1/2 million of whom are now in "star heaven," and how his Torah got to be on the space shuttle.
Cantor Sharon Hordes, from Keneseth Israel, is chair of this year's Holocaust commemoration. She explained Dr. Fenichel is a family friend. For many years, he focused on his work as a physicist and would not talk about what happened to him during the Holocaust.
"Finally, he's speaking about his experiences," Cantor Hordes said. "It's an amazing story of coincidences and hope for the future."


"We all knew he had been in the camps as a child," she said, "and by some twist of fate, he survived." He and his mother were chosen for a prisoner exchange and miraculously made it to Israel. A few years later, they came to the U.S.
"I always thought I didn't hear his story because I was a child," Cantor Hordes added, "but my parents didn't know it either." She went on to describe him as a nice guy, a mensch, a gently, kind, brilliant and humble man.
The other part of Dr. Fenichel's story revolves around his Torah scroll. When Ilan Ramon, Israel's first astronaut headed into space, he carried a small Torah belonging to Holocaust survivor Joachim Joseph with him as part of his dream. That scroll, which, according to the Jewish News of Greater Phoenix, Joseph had brought out of Bergen-Belsen concentration came, where he had secretly celebrated his bar mitzvah, was destroyed in the Columbia tragedy.
The astronaut's widow, Rona Ramon, sought to honor her husband's memory, and approached Dr. Fenichel to help her. Fenichel, a survivor of Westerbrook agreed. By sending this tiny scroll – it is only four inches high – into space, he saw it as an opportunity to fulfill Ilan Ramon's dream.
The program will also include time to remember the victims of the Holocaust – six million Jews and five million others. Cantors Hordes and David Lipp of Adath Jeshurun will also sing during the program.
Each year the names of Holocaust victims are recalled at the program. If you have relatives or friends whose name you would be interested adding to the list to be remembered that evening, please send them to JCL Community Relations Director Matt Goldberg, 618-5321; e-mail mgoldberg@jewishlouisville.org.
This program is sponsored by the Jewish Community of Louisville.
[by Shiela Steinman Wallace]