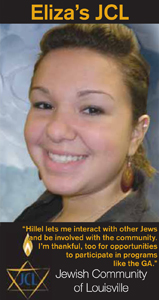 Currently, an 18-year-old freshman at the University of Louisville, Eliza Zell looks forward to returning to Israel after graduation and joining the Israeli Army for two years. This is her way of "giving back to my people," she says.
Zell has visited Israel twice and already the trips have been a turning point in her young life. "They have helped me understand my background more and have made me an even stronger believer in my own faith," Zell says.
Zell is currently Vice-President of Hillel. Serving in this capacity, Zell is becoming more aware of the need for members of the Jewish community to come together. She hopes to help organize more events for young people to gather and share in their Jewish heritage.
For the next three and a half years, Zell plans to finish her studies at the University of Louisville, while becoming more involved in the Jewish community. She is also looking forward to visiting Israel again this summer where, as she says, "I feel like I am at home."