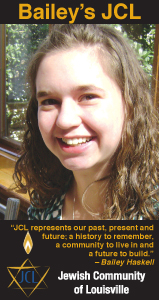 [by Phyllis Shaikun]
Just meeting 20-year-old Bailey Haskell and watching her face light up when she talks about the role Judaism plays in her life lets you know that with young people like her in our midst, the Jewish community's future is in good hands. As a proud member of the city's Zukof "clan," she has learned about tikkun olam from a family that sets the bar high when it comes to being involved in doing for others and oftentimes takes a leading role in those efforts.
Haskell has kept the family tradition alive by serving as class secretary at Atherton High School for three years, playing varsity softball for four years and singing with the school's Chamber Singers. A member of The Temple, Haskell has been a leader there as well while serving as The Temple's (TiLTY) youth group vice president her freshman and sophomore years, as co-president junior year and as president in her senior year. She also has been involved with NFTY (the North American Federation of Temple Youth).
A participant in Camp Gucci for seven summers, Haskell credits her experiences there with spurring her involvement in Jewish causes such as the Jewish Community of Louisville (JCL). For the past five years, she has been an enthusiastic volunteer for the JCL's annual Super Sunday event that benefits the Annual Federation Campaign and she served on this year's Decorations Committee.
With her encouragement, her brother, Mathew, has been a Super Sunday regular for four years. The two consider it their "annual mitzvah."
At last year's Super Sunday, Haskell met the JCL's Hillel Director, Tzivia Levin Kalmes, who knew of her involvement in the community and offered her the post of Hillel vice president. Hillel has not only given Haskell, a sophomore at UofL, the chance to meet and work with other like-minded young people, but she and three other Hillel students were able to go to Israel this past December on a Birthright Israel trip. Birthright is also sponsored in part by the JCL.
Haskell calls Israel "amazing" and says she would really like to live in there for a few months at some point in her life. She and her Birthright friends have constructed a Facebook page and they text one another on a regular basis. "My goal in life," she says, "is to take my mom to Israel. I know she'd love it as much as I do."
Haskell keeps busy as a full-time college student, but finds time to be involved in a variety of other activities as well. She works at a clothing store on the weekends. In addition, she helped her aunt, Shelley Kahn, the former volunteer coordinator at Jewish Family & Career Services, with the organization's recent food drive.
Future plans call for Haskell to pursue a career in music, perhaps as a choir teacher. "I've been singing since I was 18 months old," she says, "so to be able to combine that with my interest in social action and the Jewish community would be the best possible scenario."
This hard working young lady, who is paying for school on her own, is the recipient of the Harry Isaac Shrader Scholarship from the Louisville Foundation. She is eternally grateful for the scholarship and hopes to reapply for funding again next year. And, she notes, "I'll be back at Super Sunday again next year too."