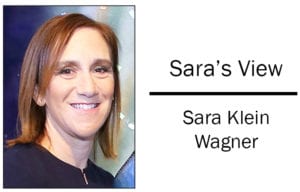 We live in a world where everyone is in a hurry. We expect immediate results, instant answers and quick information.
There is a well-known talmudic lesson involving a man who asked Rabbi Shammai to teach him the entire Torah while the man stood on one foot. Shamai turned him away. He then asked Rabbi Hillel, who simply said, "What is hateful to you do not do unto others. All the rest is commentary. Now go learn."
Hillel's response reminds us that we are not the only generation to experience impatience, a desire for instant answers, but this story demonstrates that we have faced this challenge for thousands of years.
I am often asked to describe the work of the Jewish Community of Louisville (JCL). Sometimes, I feel like I am standing on one foot, quickly trying to cover the variety and volume of what we do. There is no simple answer to the question.
In fact, Jewish Community Centers (Js) across the country engage more people in Jewish life than any other movement while federations support, secure and transform Jewish lives across the globe. Community relations councils, in Louisville and elsewhere, provide the voice of Jewish communities during good and bad times.
Rather than balancing on one foot, here is the recently approved JCL updated mission, vision and principles:
Our Vision
Inspiring meaningful lives while transforming our Jewish future
Our Mission
To be a community rooted in Jewish culture and values, providing a pathway to a changing world as we bring people together to discover, connect and flourish.
Our Values
Tikkun Olam – repairing the world
Torah – through learning, teaching and growing
Areyvut – caring unconditionally for one another
Klal Yisrael – unity of the Jewish people
It is a challenge to share everything we are doing and the countless stories and achievements. Here are just a few examples:
Volunteer Delores Levy and senior adult assistant Natalie Kusyo meet every week for two hours in the senior adult lounge to teach English to immigrants from the former Soviet Union, preparing them for the U.S. citizenship test.
LIFE & LEGACY works with Jewish agencies, schools and synagogues to secure planned financial gifts to be left as legacy of someone's life. LIFE & LEGACY has commitments from 250 donors whose total gifts have an estimated value over $6.5 million.
One Happy Camper, which financially assists first-time overnight campers, sends 10-12 new campers each year to a life-changing summer experience. Scholarship requests for teen Israel trips and summer camp shot up from two last year to 12 this year.
The Kindred Active Adult Series has engaged more than 17,000 enrollees in more than 23 exercise classes since January 2017.
There is something about this community and there is something about this place. We are here to help you find your connection.
(Sara Klein Wagner is president and CEO of the Jewish Community of Louisville.)