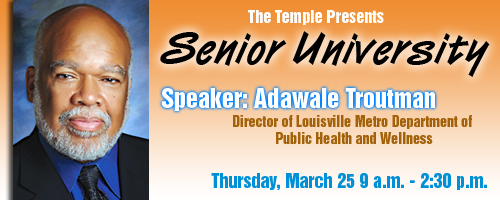 The Temple's annual Senior University always offers a stimulating keynote speaker and a broad range of workshops that provide for an interesting, educational day that seniors can enjoy with their friends. This year's program, on Thursday, March 25, at The Temple, is no exception.
The keynote speaker, Dr. Adewale Troutman, director of the Metro Louisville Department of Public Health and Wellness, will address "Livin' the Good Life: Health and Wellness in the Golden Years." Registration and "coffee and …" begin at 9 a.m., and his presentation, including time for questions, will follow at 10. The rest of the daylong program will be filled with workshops on a variety of subjects, plus lunch at noon and dessert after the last program, at 2:30.
Others on the program are David (Incredible) Inman, Courier-Journal columnist; Mercedes Nibur, speaking about Moroccan Jewry; Seinfeld composer Jonathan Wolff, giving an insider's guide to music in Hollywood; Jason Weinberger, the Louisville Orchestra's resident conductor; Jim Holmberg of the Filson Historical Society on Louisville's photographic history; Ed Weinberg, discussing the new Jewish Community of Louisville; and Rabbis Gaylia R. Rooks, David Ariel-Joel and Chester Diamond.
The schedule includes three workshops at 11 a.m., three more at 12:45 p.m., and the final three at 1:40 p.m. Participants can select one workshop in each session.
Dr. Jack and Nickie Perlman are the event co-chairs.
Admission remains at $12, payable at the door, but advance registration is requested. Call 423-1818 for more information or to register.