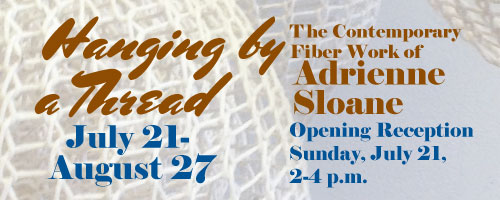 Contemporary Fiber Art Exhibit | Hanging by a Thread | Adrienne Sloane
The JCC Patio Gallery is proud to present Hanging by a Thread: the contemporary fiber work of Adrienne Sloane, a "self-confessed sculptural knitter" from the Boston area who is lauded for pushing the knit medium beyond the norm to achieve thought-provoking, contemplative pieces that address topics as heady and important as the environment, war and social action.
Sloane primarily knit hats and wearable art until 1999 when a studio fire inspired her to approach imagery in a more meaningful way. As a public radio junkie, she began to respond viscerally to news that poured out of the radio as she worked.
The result was pieces like Fated Glory, a striking red, white and blue linen flag, in which the stripes resemble bodies. In Face Off, a cascade of facial profiles delineated in I-cord-covered wire, she alludes to Congressional gridlock, including the recent fiscal cliff crisis. It's a theme she also explored in A House Divided, in which a flag has fallen stars and I-cord stripes tied into knots. Sloane had an image of that piece printed onto a postcard with a message calling for unity and asked people to send it to members of congress in a project she calls "Lobby Congress with Art."
"While there has been a resurgence in knitting and crocheting, mostly in clothing and in the frivolous knit and crochet bombings used to cover everyday objects – buses, trees, buildings, etc., there isn't an abundance of serious, thoughtful work being done using the medium of knit. Adrienne Sloane's work dramatically fills this void," said Patio Gallery Director Bette Levy.
The public and members of the media are invited to attend a presentation at 1 p.m. on July 21 in which Sloane will discuss the renaissance of knitting and crocheting as fine art and cover some of the recent extraordinary work by established and emerging artists who are helping to change the landscape of fiber art. The presentation will be followed by an opening reception from 2-4 p.m.
The exhibit runs July 21-Aug. 7. Patio Gallery hours are Sun. 9 a.m.-7 p.m.; Mon.-Thurs. 8:30 a.m.-9 p.m. and Fri. 8:30 a.m.-6 p.m.