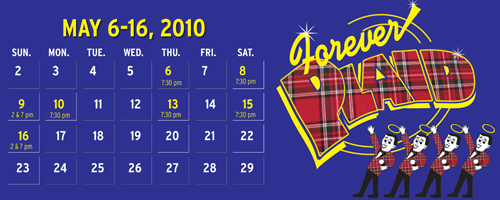 CenterStage will conclude its 2009-2010 season with Forever Plaid at the Jewish Community Center May 6-16. Performances will be May 6, 8, 10, 13 and 15 at 7:30 p.m., and May 9 and 16 at 2 and 7:00 p.m.
One of the most popular and successful musicals in recent memory, this deliciously goofy revue centers on four young, eager male singers killed in a car crash in the 1950s on the way to their first big concert, and now miraculously revived for a posthumous chance to fulfill their dreams and perform the show that never was. Singing close harmonies, squabbling boyishly over the smallest intonations and executing their charmingly outlandish choreography with over-zealous precision, the "Plaids" are a guaranteed smash, with a program of beloved songs and delightful patter that keeps audiences rolling in the aisles.
Audience members may find themselves humming along to great nostalgic pop hits of the '50's including "Three Coins in the Fountain," "Undecided," "Gotta Be This or That," "Moments to Remember," "Crazy 'Bout Ya, Baby," "No, Not Much," "Sixteen Tons," "Chain Gang," "Perfidia," "Cry," "Heart and Soul," "Lady of Spain," "Scotland the Brave," "Shangri-La," "Rags to Riches" and "Love is a Many-Splendored Thing."
For Centerstage's presentation of Forever Plaid, by Stuart Ross with musical and vocal arrangements by James Raitt, John Leffert is the artistic director, John Specer is the musical director and Sandra Simpson directed the choreography. Jeremy Moon, Pete Lay, Kyle Braun and Jon Adams are featured as the "Plaids".
Tickets for Forever Plaid are available at the JCC front desk or by calling (502) 459-0660. Single tickets are $20 and $16 for seniors, students and members of the JCC. Discounted rush tickets are available for evening performances on Sunday, Monday and Thursdays.
CenterStage kicks off its 2010-2011 Tony Award winning season July 8 with Seussical, The Musical. The season will also include 25th Annual Putnam County Spelling Bee, Brigadoon, Man of La Mancha, The Music Man and A Funny Thing Happened on the Way to the Forum. Show and season ticket information is available at www.jewishlouisville.org or by calling Marcy Workman at 238-2739.