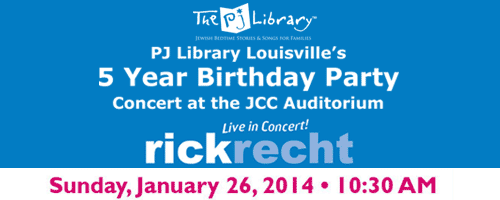 Celebrates 5th Birthday on January 26
[by Shiela Steinman Wallace, Editor, Community Editor]
PJ Library in Louisville is celebrating its fifth birthday with a special interactive concert geared toward young children and you're invited. The party, featuring nationally known recording artist Rick Recht, will be Sunday, January 26, at 10:30 a.m. at the Jewish Community Center.

Children enrolled in the PJ Library program and their families and all families with children ages 8 and under are welcome. They will be joined by kindergarten through third grade classes from The Temple Religious School and Louisville Beit Sefer Yachad. Students from the religious schools will be learning songs before the show so they can be participate.
There will also be a special PJ Library book reading, and, of course, there will be birthday cake for everyone.
Thanks to a grant from the Jewish Heritage Fund for Excellence and support from the JCC, admission is free for children and just $5 for adults. Transportation will be provided for religious school students. No reservations needed.
Rick Recht is the top-touring musician playing Jewish music today. In fact, he performs at over 150 concerts a year in the U.S. and abroad. He's even been to Louisville before and had all the children bopping and dancing to his tunes.
His appeal is to youth and family audiences, not only as an exceptional musician, singer/songwriter and entertainer, but as a role model for his involvement in Jewish life. He has shown that Jewish music is a powerful and effective tool for developing Jewish pride and identity.
Recht is the national music spokesman for the PJ Library and the executive director of Songleader Boot Camp, a national leadership development immersion program held annually in St. Louis, MO.
Recht is also the founder and executive director of Jewish Rock Radio, (501c3), the first high-caliber, 24/7, Jewish rock internet radio station that broadcasts contemporary Jewish rock music, interviews with Jewish celebrities, and interviews featuring youth from communities around the world speaking about exciting experiences they have had engaging in Jewish life. Listen to Jewish Rock Radio at www.jewishlouisville.org (scroll all the way down to the bottom of the page).
Recht's CDs will be available for purchase before and after the concert. Some of the information for this story came from Rick Recht's official biography.