[by Shiela Steinman Wallace]
The Major Gifts Event for the 2011 Annual Campaign, held Sunday, January 23, at the Jewish Hospital Rudd Heart & Lung Conference Center,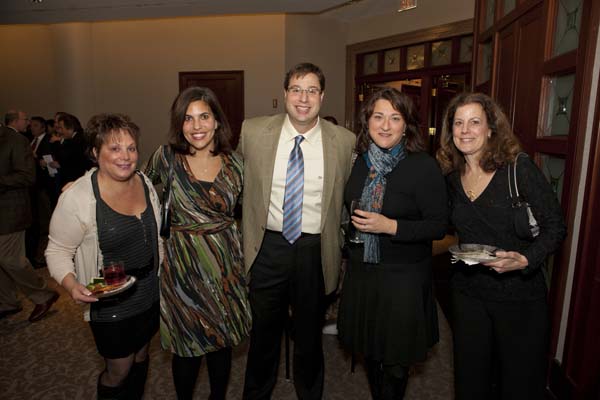 was a celebration of JCL's progress, Louisville Jewish communal accomplishments through the years and former Mayor Jerry Abramson's achievements during his 21 years in office.
Young Leadership Award winners Julie Ellis and Jeff Tuvlin narrated the program.
Tuvlin, who now serves as a JCL vice Board chair, enumerated the organization's achievements of the past year. Last year, he noted the biggest gap identified by the Program Review Committee was programming for middle schoolers. This year, the JCL hired a middle school director, and the success of his initiatives was evident last weekend, when he took 48 young teens to Great Wolf Lodge, and there was a wait list for the program.
Other highlights Tuvlin noted were a reworked Kesher Kentucky program with 21 engaged teens, collaborative work with congregations to create programs for young adults in their 20's and 30's, increased funding for Jewish education, the hiring of a new Jewish Community Relations Council director, a 19 percent increase in summer camp enrollment and the opening of the kosher Java Brewing Co. restaurant at the JCC.
There is more to do, Tuvlin added, "Requests for overnight and day camp scholarships are growing; services for our elderly need to expand; and we want to fulfill our commitments to our overseas partners.
Ellis shared a few "stories of love and hope" that demonstrate how lives are changed through gifts to the Annual Campaign.
Tyler Levy
Birthright israel, she explained, "started as a way to reach out to young Jews, especially those on the margins" who would not or could not afford to visit Israel on their own by providing a free 10-day trip to the Jewish State. This program, supported in part by the Annual Campaign in Louisville and other Federation campaigns across the country, has become a rite of passage for many. "Our most recent birthright participant last month," Ellis said, "was 19-year-old Tyler Levy."
In a video clip, Tyler's parents Sheila Seubold and Dell Levy talked about the challenges Tyler has faced throughout his life. "A lot of how Tyler has turned out, Dell said, can be attributed to programs from the Federation" and other Jewish agencies.
Tyler was also influenced by the summers he spent at camp at the JCC, Camp Livingston and the Tikvah Program at Camp Ramah, which helped him cultivate a love of Israel. The idea of Tyler traveling to Israel with other young adults did not seem realistic to them, but when Tikvah Program staff called to tell them there was a place in the birthright israel program for him to travel to Israel with his peers, they were delighted.
Tyler himself talked with pride about his trip. The best parts, he said, were going to the Western Wall, "being with friends and hanging out with cool kids like me."
The birthright program is a relatively recent innovation. Tuvlin pointed out that federation Campaigns have been making a difference in people's lives for many years.
Eliza Zell
"For nearly two decades, the Jewish community raised their voices, calling on the leaders of the former Soviet Union to 'Let my people go,'" he said. "In 1989, our plea was answered. The gates were opened and more than one million Soviet Jews poured out to build new lives in Israel and the U.S., where they now live openly and proudly as Jews."
The evening's honoree, Mayor Abramson, co-chaired the Annual Campaign that year, and with Mason Rudd, also spearheaded the Operation Exodus Campaign that contributed to the resettlement of Jews in Louisville, Israel and other communities.
Eliza Zell is a 19-year-old sophomore at the University of Louisville. She was born in Russia, but grew up in Louisville. She first visited Israel at age 16 with her family. When she graduated from high school, she wanted to make aliyah and serve in the Israeli Army. Her family convinced her to try college here first.
At U of L, she was recruited by Hillel, run by the Jewish Community of Louisville, and became president of the organization. Her dream of making aliyah stayed with her, and she sent her message by video because today she is in Israel, turning her dream into reality.
Dima Aksen
Campaign dollars make a difference in the lives of people overseas, too. Dima Aksen, who was born in the former Soviet Union and now serves as a shaliach (emissary from the State of Israel) at Ohio State University, came to Louisville to share his story.
As a young child, Aksen recalled, his family received letters written in strange letters and "disgusting cookies" from family who lived far away. He later learned that the strange letters were Hebrew and the "cookies" were really matzah.
When he was old enough to start asking questions, he attended a Jewish Agency for Israel camp and celebrated his bar mitzvah. At age 15, he participated in JAFI's Naaleh program, which brings youngsters from the former Soviet Union to do their high school studies in Israel, often without their parents.
Although his mother wanted him to return to the Ukraine, for Aksen, Israel was home. After three years there, he went into the Army, where he learned that most Palestinians are people like him and there are only a few terrorists. He also moved up in the ranks to become a staff sergeant, in charge of the basic training that turns high schools students into soldiers.
In the Army, he also participated in the Nativ program for lone soldiers – soldiers serving in the Israeli Army although they have no family in Israel. He also took advantage of the Army's Orthodox conversion program and took a course that helped prepare him for civilian life.
After completing his service, Aksen went on to study criminology at Bar Ilan University with the help of a scholarship. The terms of his scholarship required him to do four hours of volunteer work each week. He chose to work with teenage dropouts, working to get them to a safe place and reengage them in life.
Today, as a shaliach, Aksen works through Hillel to inspire students to love Israel.
He thanked the community, saying that "my journey was made possible by your generous donations."
---
Making a Difference in Lousiville
Money raised by the Annual Campaign makes a difference in people's lives in Louisville as well. A short video showcased Emily Podgursky, a volunteer who delivers Meals on Wheels to individuals who live in Shalom Tower, and one of the residents who relies on those meals because health issues keep her from going out.
In addition, Lauren Kehr, a counselor for Jewish Family & Career Services, explained how donations from the campaign enable JFCS to provide help in crisis situations, offer counseling that can change lives, ensure that seniors have access to the services they need to remain independent as long as possible, help refugees build new lives in Louisville and enable people who have lost jobs or want to find a different job to get the support they need to achieve their goals.
Lize Goykhberg
Lize Goykhberg also came to Louisville from the FSU as a young child. For her parents, Louisville was home, and not long after their arrival, her mother spoke at a Major Gifts event.
Although the family left Louisville, Goykhberg said eight years later, she felt homeless until she returned to the city. She went on to say she was delighted with what she found when she came home. Under Jerry Abramson's stewardship, she said, Louisville has become a glittering and gleaming city.
The Jewish community also continues to offer opportunities. Upon her return, Goykhberg became active in Hillel and joined the Jewish Community Relations Council. She also had the opportunity to attend the Jewish Federations of North America General Assembly in New Orleans.
The Jewish community is still the most generous community in the world, she said, and she and the others like her, who have been helped by the Jewish community, are grateful.
Goykhberg shared a letter from Natan Sharansky, chairman of the executive of the Jewish Agency for Israel, to Abramson, recognizing his contributions to the rescue and resettlement of Soviet Jews. "With your co-chair Mason Rudd," Sharansky wrote, "you led the Operation Exodus campaign, not only raising $2,500,000, but helped to build a foundation in Louisville, allowing refugees to become 10 percent of the Jewish community."
David Klein
JCL Board Chair David Klein continued the tribute to Abramson, saying, "Jerry Abramson has always been part of my life." They shared a common passion for running earlier in life, and now, both are avid bikers. As a token of this common link, Klein presented Abramson with a red sports jacket emblazoned with a fleur d'lis.
Operation Brightside, one of Abramson's early efforts in the city, "lives on today," Klein said, and in recognition of the program's connection to Tu B'Shevat, which fell on January 20, Klein donated crepe myrtles to the Legacy Garden at the Jewish Community Center in Abramson's honor.
Klein also noted Abramson's commitment to healthy living and thanked the former mayor "for making Louisville a better place to live, work and play."
Madeline Abramson
The honor of introducing the "Mayor for Life" fell to his wife, Madeline, who pointed out that the examples set by his parents, Shirley and Roy Abramson, and active participation in the Jewish community, particularly Resnick AZA, set Jerry on the road to success, and the Jewish values of family, commitment and tikkun olam have guided his life.
But perhaps, even more than this, Madeline said, she sees Jerry as fulfilling the teaching that while we are not expected to complete the work of repairing the world, neither are we free to desist from it. Jerry never gives up and never stops trying.
Jerry Abramson
Abramson said that each person has a crucible in life where they get involved, learn and then step out and apply what was learned. For him, the crucible was the Jewish community where he was nurtured by parents, club directors and counselors who cared. Hebrew School and Sunday School also contributed, helping him develop social awareness and a commitment to community service and tzedakah.
When he stepped out of that crucible and went into the Army for two years, he carried those principles with him.
In 1985, Abramson recounted, when he decided to run for mayor, Jack Klempner advised him not to run, fearing that when Abramson did something wrong, it would reflect on the entire Jewish community.
Abramson chose to ignore Klempner's advice and continued to be guided by Jewish principles.
Throughout his career, Abramson continued to seek connection with the Jewish community. When he visited Perm, Louisville's sister city in Russia, he met with a rabbi and helped ensure Jews in the community had bread and food for Shabbos.
In Montpelier, France, another sister city, he saw the Jewish Center and helped secure the government dollars to invest in improving it.
And when President Clinton invited Abramson to travel with him on Air Force 2 to attend Yitzhak Rabin's funeral, Abramson slipped out of a dinner at the King David Hotel to visit the Wall and leave a prayer for our community.
The Jewish Community of Louisville is our future, he concluded, and it is up to us to ensure that the Jewish crucible is there for the next generation.
Ralph Green
2011 Annual Cam paign Chair Ralph Green followed Abramson to the podium and shared a letter from the Jewish Federations of North America paying tribute to the former Mayor on the 20th anniversary of Operation Exodus for co-chairing that campaign here and helping resettle nearly 1,000 immigrants in Louisville.
The JFNA letter continued, "Your leadership in the Jewish community has been astounding" and is "something of which you should be proud." It went on to commend Abramson for his "tireless efforts as Mayor of the City of Louisville … . Your work in the areas of community safety, housing and neighborhood transformation has really led to a better life for the people of Louisville."
Green then focused the crowd on the Annual Campaign. "I've been involved with the Jewish community most of my life," he said, but he didn't believe it was his year to chair the campaign until he talked with JCL Board Chair David Klein, President and CEO Stu Silberman and Vice President and Campaign Director Sara Wagner.
It became clear that the Louisville Jewish community has made a new beginning with new leadership, ideas, programming and enthusiasm. These efforts can only succeed with the financial support of the community. "If we fail to give," Green said, "and give generously, there is a Jew somewhere who will not get what he needs."
A number of other community leaders, including Klein and Silberman also spoke about their commitments to the Campaign and the community.
Pledges made that evening reflected a six percent increase over the same gifts last year.
---
{gallery}Community/2011/012811/MajorGifts{/gallery}