By Andrew Adler
Community Editor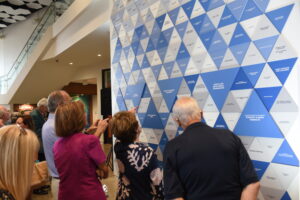 A one-year-old child can maybe walk, say a word or two and play in the sandbox. A one-year-old Trager Family Jewish Community Center can run, swim, sing, teach, dine, dance, work out, catch a show and play a mean game of pickleball.
Pretty impressive for a building that opened its doors on April 22, 2022. But it's what happens when thousands of people embrace a $43 million facility where "What if?" was transformed into "What next?"
"I remember a young family, a couple, talking about their vision for the next JCC," recalls Sara Klein Wagner, President and CEO of the Trager Family JCC and the Jewish Federation of Louisville. "They said we should have a great indoor Aquatics Center, a destination, when outdoor pools were closed, where everybody would meet. I think they knew what they were talking about."
The previous JCC had served its members for close to 70 years. Yet its architectural arteries had hardened, and it was woefully inadequate to handle the demands of 21st-century constituents. They were energized, but the building was exhausted.
You won't find much yawning in the new place.
"There were a lot of conversations about how, when you walk into the next JCC," with one thing in mind, Wagner says, "we want people to see there's other activity going on. If you came for fitness, you may have never known there was an Early Learning Center, or you may have never known about CenterStage. You can see the kids (on a Friday morning) in the Town Square celebrating Shabbat, and there's a body pump class going on — and you can hear the sounds of both going on at the same time."
They built it, and boy, have they come. Since opening, the number of members has grown from 2,400 to almost 3,600," says Tom Wissinger, JCL's Vice President and Chief Operating Officer. "It's blown our expectations away."
Because those numbers refer to "member units," which can mean anything from single individuals to large families, the number of actual users is even larger. And that constituency is notably diverse.
"It's been transformational," says Alan Engel, who was executive director of the Jewish Federation of Louisville from 1988 to 2010.
Moving to the new building "has said two things," Engel emphasizes. "One, to the general community – we are supportive of everyone. We want to be inclusive. And to the Jewish community, it's an opportunity, given the fact that we have a demographic study that showed we have fine or six thousand more Jews than we thought we had. This building can be the centerpiece of activity for people to come together and work together."
Indeed, most of Trager Family JCC members aren't Jewish. "We're trying to reach out and touch as many people as we can," Engel says. "That's what the word 'community' means."
A key locus of growth has been the Early Learning Center — referred to throughout the building as "the ELC" – which in the old building wasn't exactly a bastion of design luxury. Moving to the Trager Family JCC couldn't have been more welcome.
"It's changed everything," says ELC Director Jessica Bush, showing a visitor through her airy complex – a separate wing from the rest of the campus. In the former JCC, the ELC occupied a hodgepodge of spaces. "We had classrooms behind the auditorium, basement classrooms, another second-floor classroom. We were all over the place."
Now "we're all together in a real school and not scattered around the building." Previously "we only had nine classrooms – now we have 12. So we're a lot bigger."
Bigger, and for everyone, even safer. "I would argue that because we're so new, we're probably one of the most secure childcare facilities in the city," Bush said, because we had the ability to think about that while we were building."
Pre-pandemic, ELC enrollment had peaked to between 115 and 120 students, Bush said. Two years of Covid restrictions dropped that number "to 100, or even 90," she said. "And now we have 154, and 160 enrolled for next year."
Like the Trager Family JCC as a whole, the ELC's constituency is predominantly non-Jewish (around 80 percent this academic year, Bush says). That reflects an ongoing, ecumenical dynamic: "to be open and welcoming to everyone," Wagner says.
She acknowledges that "we want it to feel Jewish – it is Jewish in purpose — those are our roots and that's our future. And we want everyone to be part of the story. There's so much to share, and there's so much to learn from each other, in 2023 and beyond. We don't live in closed spaces that are only for members of the Jewish community."
Quite a bit more is coming. The front of the main property, where the old JCC stood along Dutchmans Lane, is being developed into green space and an area to accommodate overflow parking. There will be updated, modern signage at the entrance, beckoning visitors down a newly paved road. Hopefully these improvements will be completed by early this summer.
The most ambitious expansion will be sited to the left of the Trager Family JCC. Half the funds necessary have already been raised to construct a fully-accessible playground. A new, covered pavilion will rise behind Shalom Towers, eventually joined by one or more soccer fields.
Perhaps the biggest priority is how to grow the summertime Camp J. "We're still in the master planning, dreaming stage of what that might look like," Wagner says. "Is that a camp village; is it using (the neighboring former synagogue) Anshei Sfard as a hybrid between the two? We're working diligently to figure out what makes the most sense, and how that space might be used for the rest of the year, when camp is not in session."