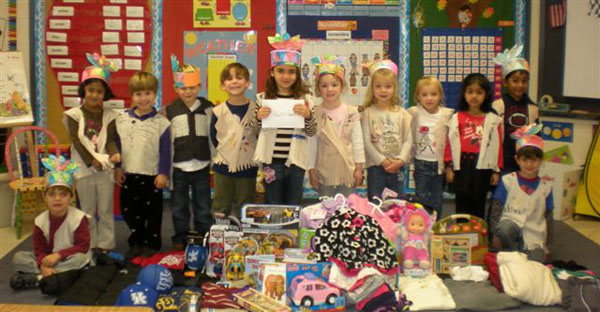 [By Alison Roemer, Director]
The Pre K and Kindergarten classes at The Temple Trager Early Childhood Education Center have been busy helping the community this year by participating in a good deed, or Mitzvah project, each month. During the month of December, the children collected winter clothing, toys and other items for needy families to use during the holidays. Classrooms "adopted" a family through the Jewish Family and Career Services (JFCS) Hanukkah Helper program.
Judy Freundlich-Tiell, executive director of JFCS, sent a meaningful letter to our students thanking them for their help. She wrote, "I am overwhelmed by the generosity of your preschool families in purchasing gifts for some of our clients. The combination of clothing, toys, books and gift certificates will have a huge impact on families and their ability to celebrate Hanukkah."
Other acts of kindness performed by the children this year included: collecting school supplies, donating items to the Humane Society, collecting canned goods for the JFCS Food Pantry, helping with a diaper drive and sending homemade holiday cards throughout the year to individuals in retirement communities.
"We hope to instill a lifelong desire in our children to help those in need," said Alison Roemer, director of The Temple's preschool program. She notes the school is located in the city's East End, accepts children of all faiths and has a diverse population.  For more information about the Preschool, please contact Alison Roemer at 502-423-1444.