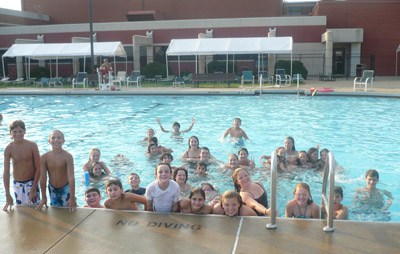 How should a Jewish middle school student spend the last Sunday evening before the start of school? For 40 sixth-eighth graders, the answer was a pool and pizza party on August 15 organized by the Teen Connection at the Jewish Community Center.
"There was a great mixture of kids from many different middle schools around Louisville, as well as kids from all the synagogues in town," said Jewish Community of Louisville Middle School Director David Siskin.
The Teen Connection was formed to help young teens transition from grade school to high school in a Jewish setting, offering social and educational programs that engage them and enable them to interact with other Jewish teens. The program helps prepare them for BBYO in high school.
The next is slated for September 12. Watch for details.