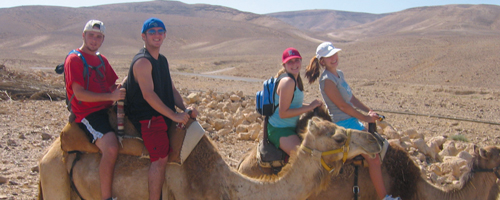 For children and young adults, overnight Jewish summer camp experiences and Israel trips are among the strongest influences on Jewish identity, but these invaluable programs come with a hefty price tag that not all families can manage.
The Jewish Community of Louisville has several scholarships available that can help, but the time to apply is now for assistance for summer 2011 programs.
The Ellen and Milton Cantor Israel Scholarship Fund provides an annual scholarship to a high school junior or senior from the greater Louisville area to help defray the cost of the trip and enable that individual to participate in an approved month-long educational opportunity in Israel. The deadline for application for this scholarship is January 31.
The Laura K. Cohen Camp Scholarship, the Miriam R. Fine Beber Camp Memorial Scholarship and the Frankenthal Family Camp Ramah Scholarship all provide assistance for families to send their children to summer camp. The deadline for application for these scholarships is Dec. 31.
Specific information about each scholarship is available below. To apply, please click the links below or contact Sara Klein Wagner at 618-5307 or swagner@jewishlouisville.org.
The Cantor Scholarship – [Apply Now]
The Cantor Scholarship was originally established by Milton Cantor in 1997 in memory of his wife, Ellen. When he passed away in 2002, the fund was renamed in memory of them both. Their son, Howard, lives in Florida and receives letters from each of the fund recipients when they return home from Israel.
"The letters mean a lot to me," he says. "The fund was important to my parents and its value is evident in the reactions I hear from the students. They describe the impact the trip has had on them and how it has changed their lives. It has been wonderful for our family to be a part of it."
His sister, Elece Kovel, agrees. The letters she receives make her realize how much the Israel trip means to the Cantor Scholarship recipients. She knows the additional funding makes it easier for students to take advantage of the opportunity to study in Israel. "Each year we have great difficulty determining which student should receive the scholarship," she says, "since all the applicants are highly qualified and are anxious to go to Israel. We hope they have a good experience."
Written application must be made to the Ellen and Milton Cantor Israel Scholarship Fund by January 31. Each candidate must also include the recommendation of his/her rabbi or an appropriate Jewish communal professional. Scholarship recipients must commit to participate in voluntary community activities upon their return from Israel.
The Miriam R. Fine Beber Camp Memorial Scholarship – [Apply Now]
Besides her family and friends, one of Miriam Fine's favorites was summer camp. From being a camper at the JCC's Ben F. Washer to a counselor at Camp Livingston and a camp in Atlanta, it simply was her thing. She thought camp was important for all kids and was adamant that her children would go as well.
When Miriam passed away in 2004, her husband, Dennis, and their children, Molly, Max and Meredith, chose to memorialize her by ensuring others the opportunity to enjoy the Jewish camping experience that had been so much a part of her life and theirs.
Since the Fine children had attended Camp Beber in Wisconsin over the years, they created an endowment to provide scholarships to the camp in Miriam's name.
The Laura K. Cohen Camp Scholarship – [Apply Now]
The late Laura K. Cohen thought summer camp was the best. She so treasured her time spent at a Zionist youth camp as a child that when she passed away, her friends and family chose to remember her by creating the Laura K. Cohen Camp Scholarship.
Applications for the partial-tuition camp scholarships will be accepted from youngsters interested in attending Jewish overnight summer camps that observe kosher dietary laws, are Zionistic in approach (provide an Israeli element in orientation and/or programming), and observe Shabbat.
The Frankenthal Family Camp Ramah Scholarship – [Apply Now]
Citing their family's desire to make a Jewish camping experience accessible for all youngsters in our community, Kim and Stuart Frankenthal endowed the Frankenthal Fund with the Foundation for Planned Giving. The Frankenthals had been Ramah campers and found it an "eye-opening experience" for themselves and their children. "Jewish camping opportunities have always been important to our entire family," said Kim.
The Frankenthal Fund provides need-based scholarships for youngsters from the Louisville area at Camp Ramah in Wisconsin. "We hope kids in the area will take advantage of the scholarship and the opportunity to be a part of Camp Ramah," says Kim. "If they have a love for Judaism and want to have some fun at the same time, there's nothing like it."