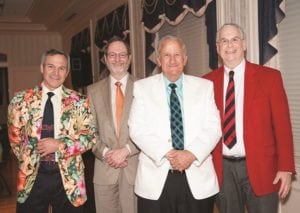 If the smiles on people's faces and the excited buzz of conversation as the sell-out crowd left Standard Club on Saturday, May 14, are any indication, The J Arts & Ideas program, Old Jews Telling Jokes, was a tremendous success.
After a deli-style dinner catered by Masterson's, everyone settled in for an evening of levity. Emcee and professional stand-up comedian Mark Klein warmed up the crowd with a few short stories, always prefaced with the comment, "this is very funny," and kept the show moving at a fast pace.
The comedians, Bruce Tasch, Lowell Katz and Eddie Bornstein, each presented three short sets in his own unique style. Tasch enjoys telling humorous stories drawn from personal experience; Katz's presentation was laced with puns, many related to the now-retired proctologist's profession; and Bornstein presented some of his favorite jokes, many leaning toward the risqué.
"One of the guests told me on Monday after the event on Saturday, 'We suddenly realized that during last month, we spent all the weekends at JCC programs,'" Senior Adult Programming and Cultural Arts Director Slava Nelson reported. The individual continued, "'and we never attended anything but CenterStage performances. We and our friends who joined us, really enjoyed both of the J Arts and Ideas programs – an evening with Steve Katz and Old Jews Telling Jokes.'"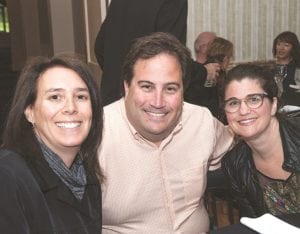 This was the second sell-out program in the new J Arts & Ideas series, made possible by a grant from the Jewish Heritage Fund for Excellence. Slava Nelson, Senior Adult Programming and Cultural Arts director, coordinated the program and John Leffert, CenterStage Artistic Director and Arts and Ideas director, directs the program.
Next up: A Conversation with Lucy Aharish, the first female Arab news anchor on Hebrew language Israeli television, on Tuesday, June 28, at 7 p.m. at The J.