Each year's Yom HaShoah community-wide Holocaust commemoration program is special in its own way. While each inspires awe and reverence, this year's program provided an educational component as well that made the familiar feel new again. This year's Jewish Community Relations Council program took place on Monday, May 2, at 7 p.m. at Congregation Adath Jeshurun.
In his introduction, Rabbi Robert Slosberg said that Yom HaShoah, or Holocaust Remembrance Day, was inaugurated in April 1951, as Israel's day of commemoration for the approximately six million Jews who perished in the Holocaust. It is observed on the 27th day of Nisan, one week after the seventh day of Passover and one week before Yom Hazikaron, the Israeli Day of Remembrance, which is observed to remember soldiers who were killed in military service to the country. Yom HaAtzmaut, Israeli Independence Day, is celebrated the following day.
"Yom HaShoah is a time to reflect," Slosberg said, "to remember, share and learn from this unfathomable tragedy."
While the names of Holocaust victims rolled on a screen behind the dais, high school and middle school students from Dan Penner's and Fred Whittaker's classes and BBYO explained the significance of the candles, lit in turn by Holocaust educators, survivors and their family members. Candles also honored the memories of Jewish martyrs, unarmed civilians from many countries, Catholics, Protestants, homosexuals and gypsies, who were also victims of the Nazis, as well as many others who risked and gave their lives to shelter Jews. In the background, musicians Kathy and Matt Karr added a plaintive musical tribute to the ceremony.
Rabbi Stanley Miles, a member of the Yom HaShoah Committee, voiced a question that was probably on the minds of many in the audience. "It's now 70 years past the Shoah," he said, "and we are remembering them. But, who will remember them 40 or 50 years from now?"
He introduced the evening's speaker by saying, "Professor Jennifer Kreder of Northern Kentucky University's (NKU) Salmon P. Chase College of Law is helping to make up for our losses with her work. She is teaching generations of students to help right the wrongs that have been done to our people so Nizkor, we will not forget."
Kreder, an attorney, is a professor of Art Law at NKU. She has spoken and written extensively about Nazi-era art litigation focused on the tragedy of the Holocaust and the art that was confiscated as a result. According to Kreder, the Nazis believed Jews were responsible for ruining culture in Germany. In addition to robbing Jews of their livelihoods and their lives, the Nazis also stole their personal possessions including countless works of art.
Beginning in 1934, many artists were banned from painting contemporary works. The Nazis, she continued, did not want modern art to corrupt their citizenry. Hitler loved Greek and Roman art and was planning to build a museum featuring classical art in Linz, Austria, his birthplace, to rival collections of the Louvre in Paris. To further his cause, the Nazis obtained lists of artwork held in government and private collections and set out to confiscate and smuggle the priceless pieces through Switzerland.
In 1939, Hitler called for the "unrelenting extermination of Jews and Jewish artwork." The pillage continued, and in 1942, the Nazis burned 5,000 paintings to exterminate all evidence of Jewish culture. They also created a traveling exhibit composed of undesirable works so people would understand what was banned and why.
The movie, Monuments Men, covered the story of a group of soldiers given the task of finding and saving works of art before their destruction or theft by the Nazis. Over 700,000 pieces were saved, but there was only a short post-war window for former Jewish owners to provide proof of ownership and reclaim their art. Most had been threatened and forced to make deals with the Nazis or had been arrested and had little time to take proof of ownership with them.
Millions of dollars of artwork were lost during World War II, and recovering the works that survived has been very difficult. The statute of limitations has run out on most pieces and litigation, even against museums that currently own the stolen works, has often been unsuccessful.
Only two cases have been succeeded thus far: the family of Lea Bondi Jaray has received financial compensation for their "Portrait of Wally" by Egon Schiele, and Maria Altmann's litigation for the return of Gustav Klimt's portrait of her aunt, Adele Bloch-Bauer, which was immortalized in the movie, Woman in Gold.
Kreder believes it will take a new generation of art students to seek and receive permission to read archives not currently available to succeed in reuniting Jewish families with works of art belonging to them or to secure compensation.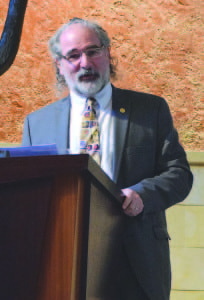 Rabbi Joe Rooks Rapport introduced the Kol Nidre prayer by saying that the words have given comfort to people for a long time, perhaps dating from the Spanish Inquisition or before, and continue to have resonance today.
Cantor David Lipp interwove the chanted the prayer with Holocaust Committee Chair Jeff Jamner's recounting of a moving story his mother told him about an experience she had in Auschwitz.
In 1944 on the night before Yom Kippur, his mother heard that the Nazis were killing Hungarians. She was afraid the war would be lost. There was silence in the barracks after the lights went out. Every prisoner knew that the punishment for breaking that silence was death. But then a quiet, single voice was heard singing Kol Nidre. Others joined in, slowly at first, but then everyone began singing at the top of their lungs. She told him, "No one even heard us." He took her hand in his and said, "someone did hear you."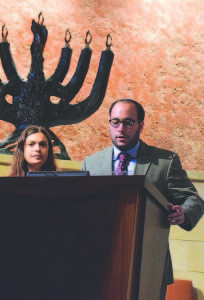 Rabbi Michael Wolk spoke briefly about the El Malei Rachamim, a prayer for peace for the souls of the departed, which Cantor Sharon Hordes then chanted.
St. Francis of Assisi student Ruthie Belza introduced Fred Gross, whom she called "a special man who lived through the Holocaust and has dedicated his life to teaching students throughout our community and beyond about the wrongs committed during that time so they would not to repeat them. He also accompanies classes on an annual trip to the Holocaust Memorial Museum in Washington, DC.
Gross read the words of the Kaddish prayer and the audience responded after each phrase with the names of concentration camps, countries touched by the Holocaust and even countries currently affected by political violence including Bosnia, Rwanda and Darfur. He said, "Bless the survivors still with us and the educators of a new generation. It was a fitting end to an emotional and thought-provoking evening.
Members of the JCRC's Yom HaShoah Committee were Jeff Jamner, Jeff Barr, Fred Gross, Shannon Kederis, Cantor David Lipp, Jessica Loving, Rabbi Stan Miles, Derek Pugh, Jeff Slyn and Fred Whittaker.
The JCRC is a committee of the Jewish Community of Louisville.